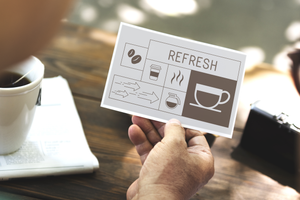 What is Print Collateral and Why is It Important for Your Marketing Campaign?
Have you been told print collateral is important for your marketing campaign? You're probably wondering what printed collateral is. Here's your guide.
Implementing thoughtful, unique, and creative methods of print collateral into your marketing strategy can help you convert more leads to sales. This form of marketing will also help build your brand's reputation, which is equally important.
There are, however, some rules to creating these documents that make some more successful than others. Using high-quality materials and a crisp logo is a great start. But there's more to learn.
Keep on reading and we'll show you how to create print collateral that feels important. With our tips, your marketing material won't end up in customers' junk drawers.
What is Print Collateral?
Print collateral is also known as leave-behind marketing materials. They are used to promote the products and services your business offers. But they can also be used to promote events and fundraisers.
Examples of print collateral are:
Brochures and pamphlets
Folders
Flyers
Notebooks, notepads, and stationary
Calendars
Booklets and catalogues
Direct mail ads and postcards
These marketing materials can be used in endless scenarios like sales meetings and consultations, trade shows, and fundraisers. They will also put a smaller dent in your marketing budget than larger items like branded water bottles and pens while still establishing your brand.
Really, how many times have you used a calendar or notepad with a company's logo on it? Leave behind is an extremely effective marketing strategy that increases awareness of new and old brands.
The best part about branding on useful, everyday items like these is the strategy is subtle. Consumers don't realize they're being sold to. But when they're in a situation where they need a product or service like yours, they're more likely to contact you because of the familiarity with your brand.
How Using Print Collateral Drives Sales
In this digital age, it's easy to think that printed marketing materials no longer hold any weight. But that false assumption can make you miss out on some hefty sales and conversions.
In fact, when compared to email, direct mail wins. A study by the USPS showed that 67% of people find physical mail to be more personal than the internet.
Additionally, 98% of people check their physical mail daily while the average open rate for emails is much lower. People still have a very personal connection with traditional mail.
That same USPS study even showed that receiving mail makes is a "real pleasure" for most. We're sure you'll agree that these are the customers you want to reach.
Prepare Your Sales Team
Your sales team should always have some forms of print collateral available to them. Business cards are easy to carry in a wallet. But if your team also meets with customers for scheduled meetings or you have a booth at a fair or festival, detailed brochures and flyers will help them too.
Part of your business's success is how well you can give possible costumers an outlook of what you have available to offer. Brochures and flyers put that information in an easily digestible format. Just because the sale doesn't go through on the spot, it doesn't mean the sale is lost.
Oftentimes, customers want to do a little reading before making a decision. Especially if the product you're selling requires a substantial investment like a car or large home appliance.
Reach Out to Existing Customers
Not only does using print collateral help you generate leads and reach new customers, it can help strengthen relationships with one-time or returning customers. For instance, if you have a customer who has done business with you in the past, you can send them a direct mailer like a postcard or catalog with an in-store discount code on it.
If you've recently added new products or services, advertise them in your print mailers too. Chances are if they liked your old product a new and improved version can catch their attention.
Take some time to think about the needs and wants of your existing customer base and choose your collateral accordingly. The goal here is to make your customers feel appreciated on a personal level.
Let's say you sell multivitamins in month-long supplies. If you notice the same customers returning each month to buy them a few months in a row, why not send those people a flyer with a coupon that gives a couple of dollars off the vitamins every once in a while?
Ways to Make Print Collateral Work for Your Business
The more time people spend attached to their phones and other devices, the more print marketing stands out to them. Giving your customer base something physical they can hold in their hands makes a world of difference.
Here are some general rules of thumb when using print collateral for marketing purposes:
Print Collateral Gives Your Customers a Chance to Brag for You
When customer testimonials are used in marketing materials versus a ton of buzzwords and marketing jargon, consumers who weren't familiar with your company before will begin to trust it. Client testimonials and success stories can be used in different ways to drive attention.
For instance, if you remodel homes or even run a hair salon, inserting before and after photos (with your clients' permission, of course) shows the quality of your work in a way that really can't be argued against.
This is why maintaining relationships with current clients is so important. Word of mouth marketing is still one of the most powerful marketing tools out.
So, asking satisfied customers for testimonials to use in your brochures holds a lot of weight.
It Solidifies Your Brand Image
There are quite a few ways in which print collateral can establish your company's credibility. To start, it will help you solidify your brand image. Brand image is important to businesses of all sizes. However, if you're a new business owner trying to introduce your product, it's even more important.
Your brand image is so valuable because it has to do with how your company and its marketing material makes potential customers feel. This concept is based on many factors. Some you may not even realize like:
Your logo
Colors and fonts used in marketing material
The way your employees dress
The appearance and cleanliness of your store
Business cards
The most important part of your brand image is its consistency. All of your marketing materials and logos should match, whether these things appear on business cards, billboards, or flyers.
While designing a logo, make sure you use something that's clean, crisp and easy to read. Your logo will need to get sized up and sized down to be placed on different types of collateral.
So, make sure it's something that will look good and make sense regardless of its size. The best logos also have a significant meaning.
It Establishes Your Worth
Using high-quality marketing materials from a professional printer instead of simply throwing something together will give you an edge. Customers won't want to invest in your product when your marketing is careless.
Remember, for many people, your leave behinds will serve as their first impression of your company. And flimsy flyers will not impress them.
Print Collateral That Brings Customers to Your Store
We've already established the importance of implementing visually appealing photos and a great logo for your marketing. But what should your marketing copy actually say?
You don't have to be a professional writer to come up with copy that sells. Here are some tips:

Identify Your Voice
You have your own voice that contributes to your personality and beliefs as an individual, right? You can have to figure out these things when it comes to your business now.
Think about some major brands you like to follow. What do they say and do that makes you and other customers loyal to them?
Now think about your own brand in the same way. Start by simply writing a list of words and phrases that define who your brand is as if it's a person.
What's in it For Me?
In your print, you should absolutely list the great features of the products or services you're selling. But that's not all you need to include.
Your marketing material should answer the question "What's in it for me?" for potential customers. Tell them how what you're selling is going to benefit their lives.
This way, you won't just appeal to impulse shoppers who happen to walk into your store. You will appeal to people while they're home and not even thinking about spending money. Tell them why they should get off their couches and come spend their money with you.
Be Brief, Yet Actionable
Your collateral shouldn't be too long or contain hard to read sentences. Your wording should be direct, actionable, and create urgency.
Here are some words and phrases that work:
Get it here
Don't forget to
No hidden fees
See for yourself
Aren't you tired of
Guaranteed
Effective
Ends soon
Real results
Discover what it's like to
Unlock
Improve Your
You've Earned
Finally, a
Connect with your customer base by using a conversational tone and writing in first person. You'll notice ads are hardly ever formal or use third person.
Contact Us
Creating your own print collateral can be stressful, but it doesn't need to be. Set up your free consultation on our site today.
Our professional team will help you create beautiful marketing materials that will help drive sales. And if you don't have a logo yet, we can help with that too!
---