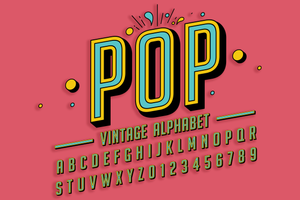 11 Creative Fonts to Kick Up Your Marketing Designs in 2018
Will people read the copy you've carefully written for your media if it's boring to look at? Probably not. Here are our suggestions for creative fonts that will catch their eye.
This just in: humans have shorter attention spans than goldfish. Yes, you read right. Our attention spans have dropped from 12 seconds to
eight seconds
---one less second that the attention span of a goldfish.
You've written amazing content, and you can't wait to share it with the world, but there's one problem. It looks boring. Do you want your brilliant media looked over on account of being drab?
We didn't think so. Unless your ideal reader is a goldfish, it's time to step up your marketing design game with some creative fonts. Capture your reader's attention and draw them in.
2018 is the year to show off your creativity, so we've compiled the hottest creative font trends hitting the marketing space. Spice up your marketing media with these creative fonts and watch the clients pour in!
Don't Go Extinct
There's a reason why dinosaurs aren't around anymore; they didn't use edgy fonts when marketing. Don't be a marketing dinosaur. Don't go extinct.
It's easy to get caught up in what's comfortable and settle for a nice Arial font because it's what you know. We urge you to step out of your comfort zone, in fact, set your comfort zone on fire.
Stay in the know and check out our blog here, for all the newest design tips and tricks to make your marketing media the best it can be. With over 90,0000 different typefaces out there, it can be an overwhelming decision on which to choose. Lucky for you, a lot of them plain old suck.
We've taken the liberty of hand-picking the top 11 popular fonts of 2018. Use them now, thank us later. Let's get started.
11 Creative Fonts to Spice up Your Designs
Don't get left behind when it comes to your marketing designs. Show the world you are modern and stay up on the trends by including these popular fonts in everything from your rebranded logo to your new business cards.
Let's see what's hot right now and how to use them in your next marketing media design.
1. Geometric Fonts
One of the most modern and creative fonts available today are geometric fonts. They belong to the sans-serif family meaning they do not contain the brush strokes at the end of fonts that serif font families contain.
Made up of clean, straight lines, this font edges you towards the future. The geometric design is perfect for the field of science, design, and tech. Get creative with your logo by building off the first letter of your logo.
Be sure to mix up the thickness of your lines for a more modern take. This makes for a bold statement sure to catch people's eye.
2. Gradient Effects
The 90's called, they want you to bring back the multicolored gradients. You'll be seeing a lot of this trend in analogous color and complimentary hues in media campaigns everywhere, and we love it.
Don't be afraid to use bold colors and opt for a large blocky font with a heavy thickness. Incorporate this hot trend into a bold heading to grab people's attention or add it to your next social media design. This is a fun font and is a great choice when overlaying images.
3. Watercolor Fonts
In our opinion, the most original font trend to date is the watercolor font. This intricate design incorporates splashes of color with handwritten fonts that are sure to draw your reader in and impress them with a delicate balance of color and creativity. Don't be timid, go bold with risky color combos to steal attention.
In the past, we have seen graphic design in watercolor, but this year we are starting to see the actual font portrayed in watercolor, itself. Considered to be a mostly feminine font choice, it is an ideal choice for logos of handmade item companies and florists alike.
4. Vintage, Slab-Serif Fonts
The vintage slab-serif fonts are one of the most aesthetic font choices right now. They are ideal for logos and are often individual works of art within themselves. They emit a vintage yet homey sense of being and best represent artisanal or gourmet goods.
The Slab-Serif fonts have a long history and are currently very popular with homemade artisanal brands, local distilleries, epicurean treats, and small batch home good items like soaps, fragrances, oils, and candles.
5. 3D Typography Effects
3D fonts are on the rise this year boasting large, geometric shapes that jump off the page---or screen. We've seen everything from rounded block letters to graffiti-like text, but one of the most classic choices are the clean, modern straight lines.
3D fonts exude authority and respect making it a great choice for lawyers, consulting firms, and the tech industry. It's the perfect balance of professional yet edgy typography to use in your business. From logos to media campaign headers, this font is always a solid choice.
6. Retro Fonts
There's something about the mid-century modern aesthetic that never seems to get old. Same goes for fonts. Go back in time to these retro fonts to keep with the times, contradictory we know.
Jump back a few generations to WWII with fonts like Helvetica, Futura, and Cold Sans Serif. Reinvent these classic fonts, by pairing the typeface with another font trend and, in turn, reinvent yourself. Retro fonts like the ones mentioned above are ideally used in anything from headings, logos, and even the copy text.
7. Image Overlays
One of our favorite trends of 2018 is the image overlay font design. We've seen this a lot recently in social media campaigns like Instagram. If you're worried about these font trends inhibiting your readability, this is a great font choice for you.
Font overlaid on an image is an easy way to ensure your content is legible while also providing some eye-catching graphics. We love the classic block text in a sans-serif font over a monochromatic filtered image. Kick it up one more notch by making the text a bold color that is sure to make a point.
8. Handwritten Fonts
On a more personal note, handwritten fonts can inspire a sense of charm and intimacy. Handwritten script fonts have been around since before the Declaration of Independence but today's style of handwritten fonts are more casual with fewer loops and more brush strokes, and we love it.
Handwritten fonts can take on many different styles from cursive, to a sketch, to calligraphy strokes. Handwritten fonts portray elegance, affection and ooze creativity. Note that this typeface is not ideal for the body of your text. Relate to your clients by incorporating handwritten fonts from invitations, title covers, or your newest product designs.
9. Transparent Fonts
It seems contradictory but transparent font designs against colorful backgrounds grab the readers attention. It's almost like how you spend more time looking at a Where's Waldo book knowing there's something hidden than if someone was looking at a regular picture book.
This minimalist design portrays fresh, simple ideas by using straight lines, sans-serif. It is best used for headings, logos, and short, attention-grabbing words. It's important that the font is very clear to read against the background to avoid straining your readers' eyes.
10. Spaced Out Font Designs
Make the most of your white space by spacing out your fonts. Large, block, geometric fonts are best used in this scenario. This is a very modern choice and a great way to spice up a landing page, header design, or call-to-action page.
Spaced out font is another futuristic, clean design. There's a science behind the way your eye falls across a page, whether it's printed or digital. How we see typography is how we interpret it. Proper spacing is the difference between a Tombraider movie poster and a poster for someone named Tom Braider.
11. Colored Fonts
Emerging on the scene this year is a trend of multicolored fonts and different color schemes. A unique way to use this trend is to take your logo and change up the font color and background colors. Think variety of colors and quantity like an Andy Warhol piece.
There's a science to color. It can evoke feelings in your reader so be sure to choose ones that match what you're going for. Here's a cheat sheet to use when creating your next marketing media design.
Reds: excitement, youthful, bold
Oranges: cheerful, confident, friendly
Yellows: optimistic, clarity, warmth
Blues: trust, dependable, strength
Greens: growth, health, peaceful
Purples: creative, imaginative, wise
Neutrals: balance, calm
In a world with a million choices, people make up their mind within the first 90 seconds of seeing something. Studies show that up to 90% of judgments on products have to do with on color alone, so it's smart to pick the right one for your design.
Now that you've got the low down on 2018's most popular and creative fonts, there's only one question left to ask.
Which Font Will You Choose?
When creating your marketing designs, there's a lot to think about: What kind of message do you want to portray? How do you want to make your reader feel?
At this point, you should have everything you need to update your marketing designs with creative fonts ready to wow any client. If you still don't know where to start, don't worry, we are always here to help.
For all your printing and design needs, contact us at Neps for everything from printed media to web and graphic design.
---