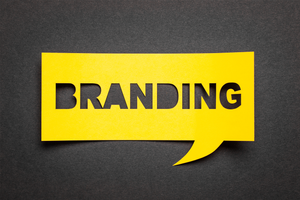 Creating Branding Materials for Your Small Business
A brand is a promise to your customers on what they should expect from your business.
A strong brand should be able to communicate what a company does and how it does it. It should also help build the trust and credibility of the company.
Your brand is seen in all your daily activities and interaction with customers and potential leads. This is through all marketing content you use to attract and educate your audience.
Here is how a small business can come up with the right branding materials to build a strong brand.
Define Your Brand Identity 
Before you decide on your branding materials, it's important that you understand how you identify as a company. 
Here are tips that'll help you understand your company.
Figure out Who You Are
Some of the activities that'll assist you at this stage include:
Find three words that describe your company best
Decide and note down what you want to be identified for in the industry
State your company's mission and core values
Decide what difference you want to make in the industry
This process is essential because gaining clarity on who you are and who you want to be in the market will help you deliver your message more effectively.
Figure out Who Your Ideal Client Is
Like any other marketing strategy, defining who you're selling to is very crucial when designing your brand.
You can achieve this by creating a persona or fictitious character representing your ideal client.
Some of the factors include:
Age
Education level
Gender
Desires/challenges/needs
Income level
The companies and other brands they're interested
Try your best to be as specific as possible when coming up with your persona.
Establish Your Brand's Special Sauce
There's nothing new under the sun. Regardless of how effective your products and services are, chances are someone else is offering something similar. 
That's why you need a point of difference (POD) to stand out in the industry. It's a strong reason why customers should choose to do business with you over your competitors.
It doesn't have to be an expensive business cost. It could be the fact that your products are manufactured in an eco-friendly way or that you have excellent customer service.
It's very important to include your POD in your branding materials.
Research What's Working in Your Industry
When creating your branding materials, it's important to check what your competitors are doing. As much as you want to stand out and be different, it'll help if you keep tabs on strategies that aren't working and ones that are working in the industry.
For instance, you may be operating a dating site and you realize that all your competitors are using a specific colour pallet or focusing on certain social media platforms. It may be best to sail your boat in the same direction. It's a clue for what could help you connect easily with your customers.
Visual Branding for Your Company
Now that you know who your persona is and what you need in your branding materials to penetrate the industry, it's time to start designing your brand.
Here are a few details you need to design the feel you want for your brand.
A Brand Creation Guide
There is a good chance that multiple people will be involved in creating your brand. A guide will make sure everyone is on the same page. 
Decide on the colour, fonts, palette, as well as the dos and don'ts of the design details.
A Logo
This is possibly one of the critical branding materials. It's the first thing that your customers see when interacting with your business. So, it should be the first thing you design, as it will be included in all your other visual marketing materials such as your business cards and website.
Business Cards
Business cards are a cheap method of advertisement, they are portable, and your next big client may be anywhere in the streets. 
Make sure your business cards are unique and match the logo and other design assets.
A Website
Your website is your small digital shop. Therefore, it should give your web visitors the same feeling your other branding materials give them. 
Depending on the type of your business, you may require to add other branding materials such as product packaging.
However, all you need to keep in mind is that your branding assets should be consistent in terms of look and feel. Your customers need to have the same feeling when they see your logo, website, or business cards. Otherwise, a little confusion may risk you losing a huge chunk of potential customers. 
Flyers & Brochures
Brochures are a great form of brand material that allows you to give more in-depth information on whatever it is that your company offers. They can also be used as educational pieces to inform your audience of topics your brand specializes in.
Flyers are also a traditional and effective way of getting people to notice your brand. These are easy to distribute and won't break the bank.
Postcards
Postcards might seem like an outdated form of mail. However, these branding materials are great for your business for a few reasons.
Firstly, they're highly customizable and can be designed on a variety of paper and print types. Also, postcards are inexpensive and easy to mail out in bulks.
Banners
Sometimes you have to go big to get people's attention. Banners are one of the best branding materials to help you highlight your business.
Banners are perfect for everyday use but work especially well at events, such as conferences, trade shows, and festivals. 
Are You Interested in Creating Branding Materials for Your Business?
Your company's brand is very important as it constantly reminds your customers about you every time they see your logo or website.
It's important that your branding materials are effective in representing your business and getting people engaged.
Find out which types of materials work best for marketing your business and invest in them. For ideas on what direction you should take with your company's brand materials, feel free to contact us today.
---