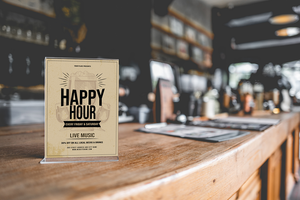 The Benefits of Creating a Flyer Advertising Strategy
A recent study showed that 91% of Canadians read grocery flyers every month. Despite the rapid growth of digital advertising, many households still use print media for product information. Flyers are amongst the most utilized non-digital marketing tools. 
Contrary to common opinion, flyers are timeless despite the age of digital advertising. Businesses still use flyers to drive sales. If you want to inform potential customers about exclusive deals or other new products, flyers are ideal.
Flyer advertising is highly effective. Here are some of the benefits of using a flyer advertisement for your business.  
Flyers are Inexpensive 
Flyers are some of the most affordable advertising tools. You don't need to break a bank to print flyers, you also don't have to print thousands to get a good rate. With digital printing technology, you can do a little as you need and of course when printing in larger volumes, the price breaks kick in. The design of your flyer is also critical, so be sure to work with a professional graphic designer.
When compared to other forms of digital advertising where you pay for ad space, flyers are cost-effective. Once you get a reliable printing company, you will realize that the cash you spend on the design and printing is incomparable to some of the other modes of marketing. 
If you want a high-impact yet inexpensive advertising option, consider a flyer advertisement.  
Easy Production 
Flyers are easy to produce. Within a couple of days, you can have your flyers designed, printed, and distributed. You don't have to spend weeks or months trying to analyze the marketing tool.
As a result, you will be in a position to make any required changes as soon as possible. You can also print more flyers if the demand is high. Ensure that you focus on creating effective print ads so that they can appeal to your target customers. 
Flyer Advertising Is High-Impact 
In digital advertising, you have to incorporate several strategies hoping that the target audience will see your ads. 
Conversely, you can get flyers into the hands of potential customers with minimal effort. If you just opened a food joint targeting students, you can go giving out flyers and sticking them in relevant places. 
You only need to know where most of your potential customers spend their time. You can request to post your flyers in places such as schools or local grocery depending on your target audience. One of the most effective ways of distribution is Canada Post. Direct mail advertising has been very effective for many years, and small, medium and large companies continue to use direct mail for flyer advertising. 
Within a short while, your flyers will start connecting you to customers. 
Reach a Wider Audience 
With flyer marketing, you aren't limited to the number of people you can reach. Print as many as copies as you need and share them widely. Those who didn't know about your existence will get to know more about your products through the flyer information. 
You will be surprised by the number of people in your locality who haven't bumped into your brand in online spaces. With a flyer campaign, you will introduce your offering to more people, which will further increase brand awareness. 
People Appreciate Tangible Adverts
One of the advantages of having business cards in today's digital age is the aspect of improved personal connection. 
Similarly, the tangible nature of flyers makes consumers feel connected to a brand. With the increasing use of digital marketing, consumers appreciate high-quality flyers.  
Once you decide to go the flyer way, quality productions aren't debatable. While you might opt for quick DIY to save some dollars, it might end up costing you more. 
You can get a professional to design for you a flyer that will prompt a person to want to check the details of the ad. 
Flyers are Easy to Read
Flyer advertisements are an effective and easy way of telling people about your products and services. A well-designed brochure gets the main point across in an easy-to-read style. The fonts are bold enough to keep a potential customer reading through.
In 2016, Microsoft surveyed Canadian media consumption and found out that the consumption was at eight seconds, as compared to 12 seconds in 2000. 
With the reducing attention span among consumers, getting an advert that one can peruse through within a few seconds is essential. An advertising flyer is an option that can appeal to most people as one can read all the details in the shortest time possible. 
Flyers are Captivating 
On a website, other forms of content might overshadow your ad. Customers visiting a website are likely to overlook an ad, making it ineffective. Flyers are attention-grabbing, and it is almost impossible to have a glimpse if you come across one.
If you're visiting your local grocery, the sight of a well-designed and colourful flyer will prompt you to check it out. Within that quick look, a potential customer can know more about a company. It wouldn't be surprising for an on-looker to note down the number indicated on the flyer. 
If your flyers are attention-grabbing, their effectiveness will manifest even within a few days. The choice of colour and font should be appealing enough. Ensure that your flyer aesthetics are relevant to your target audience.
You can Incorporate Incentives 
A flyer can allow you to incorporate some incentives such as vouchers and coupon codes. With the incentives, your flyer will attract more interest from potential customers. It can further create awareness if you're promoting an event. 
People love sales that help them save some bucks. You can prompt immediate action by offering discounts to the first twenty people who will use a particular coupon code. With this approach, the traffic on your website and store will be overwhelming. 
However, ensure that you keep your part of the deal. The last thing you'd want is to lose customers after failing to deliver the discounts indicated on the flyers. 
Digital Advertising Shouldn't Be a Substitute for Flyer Advertising 
Despite flyer advertising being a traditional advertising tool, its impact on marketing is unbeatable. Flyer advertisements are still relevant, despite the robust growth of digital marketing. The benefits of flyer advertisements are worth pursuing if you want to increase sales and drive brand awareness.  
While at it, ensure that you work with a professional print company. Consumers increasingly appreciate quality, and your flyer is the first impression of your offerings.
Do you need any printing services in Canada? New Era Print Solutions (NEPS) has the skills, experience, and machinery to make your prints stand out. Contact us today for all your printing needs.
---