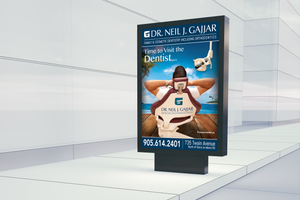 Rules of Engagement: 12 Tips on Creating Effective Print Ads
Businesses in the United States are expected to spend $24.34 billion on print advertising in 2019.
For the past few years, the public narrative has been that print advertising is on its way out due to the popularity of the internet. Despite all the predictions of gloom and doom print promotion is still going strong.
Segments such as the luxury market and businesses that still have a physical presence need print advertising. Thus, for businesses in such segments, there is a need to wring every dollar out of their print ad campaigns.
Keep reading for tips on how you can create effective print ads.
1. An Attention-Grabbing Headline
Print advertisements, just like any other form of customer engagement material, rely heavily on first impressions.
When your ad is in front of your target audience, you have seconds to grab their attention and convince them to keep reading.
Before you create a headline, ask yourself who you want to speak to. Find out what appeals to them and then express that attraction in the form of an irresistible headline.
2. Give the Customer an Irresistible Deal
The ultimate objective of print promotion is to deliver a compelling value proposition to the customer.
Customers love a bargain that gives them the feeling that they have received more value than the money they parted with.
Whether it is a bundled offer, a free trial or unbeatable pricing, make sure your offer matters to your target customer.
Your print promotion will, therefore, gain more traction and give you a higher return.
3. Create a Campaign
Print media is part of your overall marketing mix. Consequently, effective print promotion works best when it is part of an overarching marketing campaign.
Crafting an overarching campaign in advance of the print promotion will help precisely target the message you want to pass on.
You will know who you aim to talk to, the number of print promotions to run and when to best deliver it.
4. Explain the Benefits Clearly
If your print ads are in support of a product or service that intends to solve a customer's problem, then it needs to clearly state the benefits.
Many marketers often get caught up in simply listing the features of their product or service. For many consumers, that does not matter.
When you clearly show the customer how getting your product or service will improve their life, then your print promotion will hit the mark.
5. Build Trust
The customers you plan to advertise to via print receive many other solicitations in the course of the day. At the same time, no one pries open their purse easily.
Your print promotion needs to create trust to get your customers to buy into your messaging.
Graft testimonials into your copy from customers who are happy with what you offer.
That peace of mind will go a long way in getting your investment in print marketing to convert into a sale.
6. Simplify the Layout
A majority of print promotion has to fight for a customer's attention along with all the other ads they will see.
As a result, you need to avoid making it harder for someone to scan through your promotion and understand it.
Do not clutter the layout of your print ad so that your viewers can get straight to its point and grasp your message.
7. Go Visual
The human brain processes information 60,000 times faster than it does text. Therefore, even though you are creating a print ad you still need to incorporate visual elements in it.
Look for images that add to or communicate your message at glance and in a captivating way.
Your graphics should also pop without distracting from the main message. Let your logo's design and placement be visible but non-intrusive to associate the product with you without overpowering the message.
8. Use Clear Copy
Large blocks of text make a print ad less interesting to read.
The customer did not go looking for your print ad and therefore if they come across it and it has a lot of text blocks they will just ignore it.
Instead, use smaller bits of text and them with bullet points and indents. It will be scannable enough for a customer, encouraging them to peruse it.
9. Track the Results
How can you create an effective print ad if you do not know its performance once it is in the wild?
As you focus on creating killer print promotion you need to track the results it will generate once you release it.
Such feedback will help you identify what you need to improve on with the next ad. Ultimately, you will end up continuously increasing your ad spend return.
10. Make It Easy to Reach You
Place your contact information in the copy clearly so that customers know how to reach you. You have told them what they need now let them know where to get it.
Ensure you lead any potential customers back to your website so that you can track each ad's performance.
11. Mind the Font
Use the font in your print ad that will resonate with the target audience. Do not write copy with small font if you want to reach the elderly, for example.
Test the font to ensure that the ad is readable at a glance and from a reasonable distance.
12. Include a Call to Action
Once you tell the customer how your product or service can benefit them, it is time to direct them to take action.
Use persuasive and compelling words to ask them to take a certain action like emailing or going to your website, for example.
It Is Not Difficult to Create Effective Print Ads
In today's digital world, print advertising still has its advantages. The catch is that you must create effective print ads to draw the attention of your target customer.
New Era Print Solutions is an expert in creating state-of-the-art print ad solutions for any business. Contact us today to let your print advertisement turn your message into revenue.
---