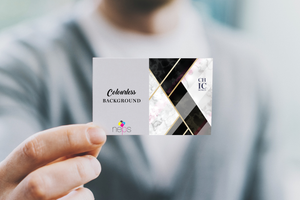 Solid Business Card Backgrounds: Chic or Colourless?
Do you feel like your current business card design isn't relevant to your branding, your title, or simply who you are as a person?
Are you concerned that a design you once thought was creative and fun is now making you look unprofessional and inexperienced?
If so, it's time for a redesign.
From watching the influential role that business cards have played in some of your favorite movies to the real-life connotations of your personal business card, it can be tough to find the design that best represents both you and your company.
One of the toughest design decisions you'll make?
Choosing the right business card backgrounds.
In this post, we'll evaluate both the pros and the cons of choosing a solid color background for business cards.
Once you've made your design decision, we'll tell you where to find reliable business card printing services that you can trust to bring your vision to life.
The Pros of Solid Colour Business Card Backgrounds
When you go for a more minimalist, solid-coloured background in your business card design, you need to be aware of the message that you're communicating to those you hand it to.
One of the main reasons why so many people gravitate towards a solid background for business cards?
Because it suggests that your brand is already established, or that people already know exactly who you are. Those who hand out business cards with a solid background are letting people know that they already have a reputation.
They don't need to include things like logos, several phone numbers, and more in order to convince people to do business with them. Instead, the minimalist design helps to project an air of exclusivity.
After all, there's nothing more desperate than a card that has four different phone numbers listed.
When someone hands a potential client a business card with a minimalist design, they often end up making the client pitch to them.
Additionally, using lots of negative space within your design can help to call more attention to the design elements that you have chosen to include on your card.
Because the background is a solid colour, a lead's eyes go right to your name and the title that you hold. If you'd like to take that a step further, you could choose to include a black box around your name.
It Never Goes out of Style
Another major reason why a minimalist and solid coloured background for business cards is a smart idea?
Because it's a timeless classic.
While bold and trendy designs can certainly be a lot of fun, they also mean that you'll need to order new cards much more frequently. Over-the-top business cards can begin to look dated quickly.
Plus, these types of designs often end up putting more focus on the company or business that you work for. Really, the thing doing the selling should be your unique personality and perspective.
Keep things simple in order to make the right kind of impression, and to create a card that never goes out of style.
The Cons of a Minimalist Design
Of course, as much as we adore a solid colour background design, the truth is that they're not always the right choice for everyone.
First of all, if you're in the beginning phases of your business, you need a card that will reinforce your branding and help people to recognize your company.
If you're on the newer side, you'll likely need to include lots more information -- and perhaps even your company logo -- on your business card.
Additionally, if you work within a creative field, then a more minimalist design may not be the best fit for you. You could include one of your own drawings or designs as an example of your aesthetic and as a way to show off what you can create.
Plus, if you sell in lots of different places online, you may need to include more information than just your name and phone number. A minimalist design won't do anything for you if you sacrifice the potential to capture leads and make sales because of it.
For the perfect way to combine multiple pieces of contact information and still keep your design simple, check out this awesome example.
Remember that in order to pull off a solid and minimalist design, the spacing of the content on the card needs to be carefully considered.
If the font is too small, the content off-centered, or too little is included, the card can actually end up looking unfinished.
So, if you do opt for a solid background?
You need to make sure that the business card has the right amount of negative space in relation to the font and the amount of information you're including on it.
Consider the Colour
So, you've decided that you're interested in pursuing solid business card backgrounds.
Before you decide to go with the default option of a white background, you should consider the messages -- and even the emotions -- that other colours can create.
A solid black background design is perfect if you want to communicate a message of power, luxury, and exclusivity. A red background creates a sense of excitement and energy in others. It also often reminds people of romance and passion.
If you want to create a sense of positivity and happiness around your name, go with a yellow or orange background.
You should also consider how the colors of your business card backgrounds relate to the industry that you work in.
For example, if you're in the financial field, "money green" will help to enforce your branding. If you work within the outdoor industry, or if you sell organic products, then an ocean-coloured blue will help those you give the card to with making that connection.
Remember, there are lots of different business card background options out there than just black or white.
However, if you do decide to go with a bolder colour option, make sure that the color of your font is still legible against the brighter backdrop. We also suggest going with simpler fonts, which will prevent the design from becoming too overwhelming.
What to Include on your Business Cards
Especially if you do decide to opt for a more minimalist background for business cards, it can be difficult to decide which information you should include on the card itself.
You don't want to overwhelm the design and create overcrowding on the space. However, you also want to be sure that the people you hand out your cards to have the information that they need!
So, what should you include, and what can you decide to leave off?
It all depends on the kind of business you run, as well as the platforms that you do your selling on.
If you're an online clothing shop, for example, you'll likely consider your social media handles essential information. They can take the place of an email address, as interested buyers can simply direct message you on your social accounts with any questions.
If you're a business to business company with a brick-and-mortar location, however, you'll likely want to include your business's hours, location, and perhaps even your personal cell phone number.
The essentials that you shouldn't leave off regardless of what sort of business you're running?
Your name, the title of your position at your company, and your preferred form of contact.
Remember that if you have extra information that you'd like to include, such as the address of your business's blog or website, you can always put that on the opposite side of your business card.
Bring Your Business Card Backgrounds to Life
We hope that this post has helped you to decide whether or not going for a solid colour background and minimalist design is the right choice for your business card.
When you're choosing business card backgrounds, always make sure you've thought about your phase of the business, your branding, and of course, your personal preferences.
Of course, in the end, it's the company you choose to work with when it comes to creating your cards that makes all the difference.
That's where we want to be able to help you bring your design to life.
Spend some time on our website and blog to learn more about the wide variety of printing services we offer.
When you're ready to upgrade both your business cards and your promotional materials, reach out to us to get started.
---