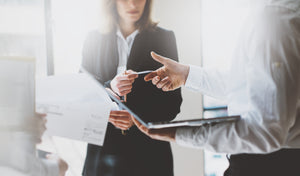 Create Professional Business Cards That People Will Actually Keep
Create Professional Business Cards That People Keep
How many business cards have you thrown away in your lifetime? Click here to learn how to create professional business cards that people keep! 
Are you tired of watching people throw away your business cards a few minutes after you hand them out?
Do you feel like your current professional business cards aren't doing much for your personal brand? Are you worried they aren't telling potential customers why you're a better choice than your competitors?
Are you just the type of person who wants to take every available opportunity to advertise their company and network with as many people as possible?
If so, then it sounds like now is the time for you to start upgrading your professional business cards.
But what should you include in your design -- and what makes people actually want to keep your cards in their wallets?
Read on to find out.
1. Consider Unexpected Materials
One of the biggest ways that you can set your professional business cards apart from your competition?
By using different materials and playing around with texture when it comes to the card itself.
After all, a card that's printed on cheap, flimsy paper isn't exactly going to convince your target market that you're truly the luxury boutique that you claim to be.
Design for the kind of clientele you'd like to attract to your business, and make sure that the material you choose is consistent with your overall branding strategy.
For example, if you've created an eco-friendly cleaning product line? Then why not consider having your business cards printed up on our ultra thick enviro card material? These cards are double layered, so they'll still feel incredibly thick and durable without wrecking havoc on the environment.
If you're in the ultra-competitive startup world? Then you can't go wrong with our super sleek UV cards, which have actually been cured with a glossy, ultraviolet light to help you to stand out even more.
If you're a clothing designer that's trying to get their first line off of the ground and into more major retailers? Try printing your business cards on either silk or linen textures.
This will perfectly compliment the materials you work with, and will make it easier than ever for potential stockists to remember exactly who you are.
2. Keep Things Legible
Another crucial thing to keep in mind when you're looking to create unforgettable professional business cards?
No one will care what kind of material your cards are printed on if they're not able to read what's written on them.
We know that it can be tempting to try out a unique, perhaps even bespoke, font -- especially if it's a part of your branding strategy.
However, keep in mind that, especially when it comes to designing professional business cards, legibility matters more than anything else. Just because the font you usually use looks perfect on the side of a car, your signage, or even on a computer screen?
This doesn't mean that it will translate as well on a smaller business card.
Always stick to simply fonts that are easy to read. You don't want someone showing up at the wrong address because they couldn't tell if you'd written a "7" or a "1."
Image Is Everything
When it comes to the images you choose to include on your professional business cards?
Make sure that they're not overly detailed, either. While it's important to increase your brand recognition by including a logo on your business cards, if it's a more complicated design, do what you can to simplify it.
If your logo is simply too "busy" to include on your professional business cards, you have two options. One, you can take this opportunity to rebrand your business and create a new logo altogether. Two, you can create a simplified, toned-down version of your logo, or select another equally relevant image to put on the cards.
3. Cut What You Can
Thanks especially to the rise of digital marketing and social media, it can seem like you have more things than ever that you need to include on your professional business cards.
However, an overcrowded business card is never ideal.
Instead of coming across as detailed and informative? Often, it can end up making you look desperate.
When you're designing professional business cards, always look for what you can remove. Of course, things like your name, your phone number, and your company's website are generally non-negotiable.
But do you really need to include every single one of your social media handles, your home, cell, and office phone number, your store hours, and three different images?
Keep in mind that minimalism is in, and the less information you include (within reason, of course) the more intrigue you can create around your brand.
If you're truly unable to make some cuts, there is still a solution that will allow you to keep your professional business cards looking clean and neat.
Simply include your most important information, like additional branches/locations and business hours, on the back side of your card. That way, your clients will get the information they need, and you won't come across as too intense.
4. Consider The Size And Shape
When it comes to creating professional business cards that won't get thrown out the minute after you hand them to an important business contact?
We understand that you want to do everything in your power to come across as unique as possible.
However, there's a difference between creating cards that make potential contacts and clients stop and think, and ones that make them laugh at you. You also need to consider overall usability and convenience, especially when creating the size and shape of your cards.
Sure, a business card shaped like a flower pot to advertise your gardening business might seem like a good idea. But will that actually fit inside of anyone's wallet?
Likely, the answer is no.
In general, we suggest sticking with the following sizes when it comes to your professional business cards:
3.5" x 2"
3.5" x 1.5"
3.25" x 1.75"
3.375" x 2.25"
These are the sizes that are the most likely to fit inside of a standard wallet.
Remember, the time to get expressive isn't the shape and size of the card. Instead, it's on the actual design elements of the card itself.
5. Don't Forget The Details
When it comes to your business cards, it's all about the attention that you pay to details that really helps you to make your mark.
You want your card to be legible and easy to carry -- but you don't want it to look like everyone else's.
Things like selecting rounded edges, selecting a gloss or matte finish to coat your card with, or even painting the edges of your business card will all help you to stand out.
Again, this is where you need to take your overall branding plan into consideration.
If you're interested in targeting a luxury market, consider embossing the font on your cards. If you want to elevate the look of your lettering, you might also consider foil stamping.
6. Keep The Process Simple
One final thing that you need to keep in mind when you're in the process of ordering business cards?
When you're looking for a company that can print your cards, make sure you go with one that makes placing your order as simple as possible.
We understand that in between the day-to-day stresses of running your business, scheduling meetings with clients, and even occasionally having time to take a lunch hour? You really don't have time to deal with a complicated ordering process.
Look for a company that allows you to upload your images and template design directly to the site.
Additionally, if you don't have a design for your card? A quality company will have a design team on hand that can create one for you.
Ready To Order Professional Business Cards?
You're not imagining it: the business world is only getting more and more competitive these days. If you want to make it, then you need to do everything you can to stand out.
One of the most effective ways to do just that?
Design business cards that make it clear that you're willing to go the extra mile -- and help you build your brand recognition in the process.
Remember to consider legibility, size and shape, and even the material of the cards themselves during the design process.
Ready to get started on bringing your business cards to life?
If so, then spend some time on our website to learn more about how we can help you to make it happen.
We can't wait to help you to grow your business, earn more clients, and make your mark within your industry.
---