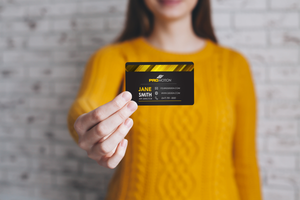 Indoor or Outdoor: Best Ways to Use Business Cards
Nearly 57% of business professionals believe that having a business card is important for their business.
Business cards are an inexpensive, effective way to market your business. If you have a bunch of business cards lying around, it's time to put them to use.
Read on to learn the best ways to use effective business cards and how to make the most of them.
The Importance of Business Cards
Are business cards still an effective marketing tool? Yes, business cards work. They offer a convenient, friendly way to share your contact information and leave an impression. 
You could exchange contact info quickly through text or email, but with all the digital information out there, it's more likely to get lost. When someone receives a business card, they're likely to put it in their wallet or purse. This increases the chance of seeing it everytime they open their wallet or look through their business card organizer. 
Business cards are also cheap to buy in bulk and easy to pass out when compared to other forms of marketing. 
What Goes on a Business Card?
Wondering what essential information to include on your business card? You should include information about yourself such as your name, job title, and contact info. You should also have your company name and logo.
Other key pieces of information you can include: your company tagline, a short description of your services, or a call to action.
You can also include a picture of yourself to help make your card stand out and help people put a face to your name. 
Different Ways to Market Your Business with Business Cards
Here are the different ways you can market your services with effective business cards.
Include a Coupon or Promo Code
Include a coupon code or online promo code on the back of your business card. This way, customers will want to visit your retail store or your online store to redeem it. 
By including a coupon on your card, you'll be adding value to the card and customers will be less likely to lose it. Another way you can add value is by making the business card a punch card. This works great for coffee shops, nail salons, or spas. 
Make It a Multipurpose Tool
You can make your business card do double-duty. One way you can do this is by making it into a bookmark. This would work great for a bookshop.
Another thing you can do is print a calendar of events on the back of the card. If you're a carpenter, you can print ruler markings on the card to transform it into a handy tool. 
Use as Appointment Reminders
If you make regular appointments with your clients, such as a doctor's or dentist's office, you can print appointment reminders on your card.
Bilingual Cards
To appeal to a broader audience, print your cards in another language. You can have one side of your card in English and the other side translated into another language. 
Network with Other Businesses
Business cards are an effective tool for networking with other businesses. You can go to businesses that complement your services or products and ask to exchange each other's cards.
For example, if you own a hair and beauty product line, you can visit beauty salons and see if you can network with them to pass out each other's business cards. 
Always Have Cards on Hand
Imagine you meet someone at an event. You want to exchange your contact info but realize you don't have a business card on hand. Instead, you're scrambling to find a pen and paper to give them your contact info.
Instead of this awkward situation, make sure to always have business cards on hand to pass out when meeting someone new. Your card can make a good first impression and reflect the professional business tone you want to convey.
Include a QR Code
If you want to take it a step further and track analytics, you can print a QR code on your business cards. This way, you can track how many times people scan your QR code and go to your website. 
If you find that not many people are visiting your website, you can try redesigning or improving the quality and call to actions on your card. 
Design It Well
With the above in mind, make sure you design your card well and with quality paper. In fact, 72% of people say they judge a business based on their business card quality. And 39% of individuals said they wouldn't do business with a person if they had business cards that looked cheap.
It's important to spend time on the design of your card. You can even consider hiring a graphic design artist to help you create an attractive, compelling design.
Another tip is to leave the base color of the card white or another light color. This way, people can handwrite important notes if needed. You should also keep the size standard of 2 inches by 3.5 inches so that they fit in wallet compartments. 
Don't Leave the Back Blank
Instead of leaving the back of your card blank, make use of the real estate you're paying for. 
You can use the back of the card to include a piece of trivia relevant to your business. Or, you can include a testimonial of your services. 
Final Tips for Using Effective Business Cards
In our increasingly digital world, effective business cards stand out. If done right, you can promote your business with these small, powerful tools.
Learn more about how we can help you design and print effective business cards for your company. 
---