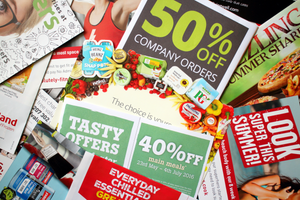 How to Create a Marketing Flyer: 12 Surefire Tips
You may have heard that print materials are a way of the past when it comes to marketing your business, but contrary to popular belief, it's not true!
In fact, 4 out of 5 business owners say that print materials help them stand out in a crowd. If your business needs marketing materials, but you don't know where to start when it comes to design and execution, you've come to the right place.
Whether it's your business cards, print collateral, or marketing flyers, it can feel like you're on creative overload. Our 12 simple steps will make the process painless and let you focus on what you do best - running your business!
What Works Best for My Brand?
Ultimately, that decision is up to you. First, you need to devise a marketing plan, by assessing customers' needs and what service features you want to highlight in order to catch their attention.
86% of Canadians open mail that's addressed to them, so printed materials are still the way to go if you want to get your business seen.
Generally, printed marketing materials include:
Business cards
Event flyer
Brochures
Door hangers
Stationery, like envelopes and letterhead
Banner products
Presentation folders
Marketing flyer
Aside from business cards, marketing flyers are still the go-to for businesses with more than 4 billion distributed in Ontario alone every year. The key is to make sure your flyers are clear and concise while still being catchy!
How do you build a flyer that will do all of that? By following the 12 tips below...
How to Design the Best Marketing Flyer
Creating a flyer isn't complicated and it shouldn't be. Your vision can come to life without being a graphic artist or with any experience. All you have to do is keep a few tips in mind and you will be a pro flyer creator in no time!
Identify Your Audience
You already know who your intended audience is, right? So use that information when you build a flyer. If your target demographic is teens, come up with a trendy way to get them to pay attention to your product, without coming across as grown-up trying to market to teens.
If you have a teen yourself then you already have your test subject. Ask them what they like about the way their favourite brand is marketed. You may be surprised at their response but it will give you insight on how you should create your flyer.
Likewise, if you're target audience is the same demographic as your spouse or partner, ask them their thoughts on what catches their attention.
Choose Your Fonts Wisely
There are thousands of different fonts you can choose from so choose wisely! Your first choice should be the font that your logo or brand design was created in. Keeping your brand marketing consistent across the board looks better and triggers a memory response from a potential customer that may have already seen your storefront or sign already.
If your brand design font is a little too busy or hard to read, try something similar but simple. Don't use more than two different text fonts because doing so can stop the flow of what you're trying to say.
Hook Them With Your Headline
Be creative but don't be condescending or too provocative. Find the keywords for your product or service and build your headline around them. Make sure you come up with something memorable because you want your headline to hook the audience in and read more.
Use Bright Colours Smartly
Advertising companies have proven that specific colours influence people's buying trends.
Red creates a sense of urgency, which is why it is used for sales. Green evokes a sense of health and balance. Blue is favored among men and is associated with reliability and security. Purple is said to stimulate creativity and problem-solving.
Orange/Yellow create optimism and can lure a customer into your store. However, yellow can be hard to read so keep that in mind when you're designing your marketing flyer.
Black is associated with power and authority and is widely used in text because it's easy to read. In most cases, it's also the most cost-effective when printing a large number of flyers.
For marketing directed at children, primary colours (red, yellow, blue) should be used. If you are targeting healthcare, go with green. Bright, neon colours are great for nightlife-related events and services. Red is the primary colour used for restaurants and food services.
Keep It Balanced
Your layout needs to be clear and balanced. Too much text or images can clutter your flyer, making it hard to read and turning away potential customers.
Use the rule of thirds: After choosing your image, divide it into thirds horizontally and vertically. The human eye automatically focuses on an intersection, so use one of these as the focal point of your image.
The rule of thirds will also help you space out your text accordingly.
Don't Over Complicate It
Using no more than two type fonts and the rule of thirds will help keep your flyer focused and simple. You want to be creative without being cluttered.
In the world of marketing and advertising, less is more. You don't need to say or show too much.
Keep Your Points Clear
After your layout is designed in a balanced fashion, make your flyer "mean what you say and say what you mean."
Don't get too wordy. Consumers' attention is grabbed in seconds. If you make them work too hard, they'll become frustrated and lose interest.
Focus Your Business' Best Features
Think of a few keywords that describe your business then use words like "you," "your," "sale," "free," "new," "guarantee." Explain (clearly and without complicating it) why a consumer needs your product or service.
Everyone wants to know what's in it for them, so tell them!
Be Professional
You're a professional, so market your brand as one!
Unless your target audience or customer is children, don't be juvenile or use too many slang words. It may be what's trendy on Instagram but that doesn't mean it will attract a customer to your specific product or service.
As far as the images and design go, use the highest quality photographs so it isn't pixelated in the printing process.
Even if you're new to design, you don't want your potential customers to know that. Take a few minutes after you've selected your image and ask yourself if the photo would attract you to act on the flyer or if you'd just ignore it.
Offer a Discount
Everyone loves a sale! It doesn't matter if you're offering 10% or 75% off your product or service, people will respond if they know they're getting a deal.
Offer a discount if a customer brings in your flyer or use your flyer to market a sale. For instance, adding "Use online code BUYNOW to receive 50% off your order" until a certain date.
Flash sales are a fun way to boost your business. A flash sale is an exclusive sale with huge savings typically reserved for e-commerce businesses for a short period of time but you can extend that to your brick-and-mortar too.
Of course, there are a lot of factors involved with a flash sale. How much inventory do you have? If you're offering a discounted service, will you have such a response you will need to pay your employees overtime?
Is it feasible in the first place? If the answer involves you losing money or your business taking a hit, try a different approach like just offering a smaller discount for a longer period of time.
Include a Call to Action
Your flyer's intention is to have your audience buy your product or service but if you don't tell them to call your number, check out your website, or register for an event, they won't know how.
Make sure when you're going over your design, you include what you want your potential customer to do and how they can do it. Adding your social media account info is becoming a must in our digital world, so if you have a Facebook, Twitter, Instagram, or Snapchat account, make sure you leave that info.
The more ways you reach out to engage your audience and keep them engaged, the more successful you'll be.
Proofread
Yes, this does sound simple enough but sadly isn't always done. How many times have you put out an ad or message on one of your social media pages and accidentally typed "your" instead of "you're"? It happens to the best of us.
Yet, a number of customers or followers will point out your spelling error which leaves you frustrated and embarrassed.
Read over every word in your marketing flyer to ensure this doesn't happen after thousands have printed and are ready for distribution.
Looking over your flyer or having an employee or partner do it may catch simple typos your own eyes won't. It won't only save you from embarrassment but it will save your bottom line.
You're on Your Way and We Can Help
If these tips sound like no-brainers or what you had in mind before reading this post, congratulations! You're more of a designer than you give yourself credit for!
Thousands of businesses across Canada rely on our services which range from graphic design to business cards. We offer same day printing pick up on products ordered by 1 pm or have them shipped anywhere in Canada the next day.
For more design ideas, check out our blog or if you're ready to print your own marketing flyer, contact us today for a quote.
---