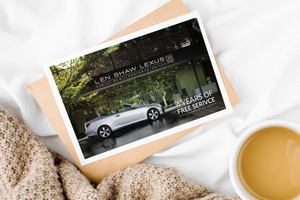 Postcard Marketing 101 and Postcard Marketing Ideas to Up Your Game
In the future, the next generation of children will probably have no idea what a postcard or physical mail is. Some people even think we're currently living in that situation - a world where mail is obsolete and all conversations are done digitally. Yet, postcards are still the most direct way to reach a good part of your customer base, so good postcard marketing ideas are worthy of attention.
Marketing companies know better than to do away with the mail. And that's why they use marketing postcards. Postcards are simple. You don't have to open an annoying envelope, and they're easy to read.
You may be wondering: who reads postcards anymore? Well, the real question should be: who reads emails anymore? The Direct Marketing Association found that direct snail mail has a response rate of 4.4%, while emails have an unimpressive response rate of only 0.12%.
All of this is a long-winded way of saying that while, yes, postcards aren't as popular as they used to be, they are still better than a lot of the other marketing methods that are used and implementing good postcard marketing ideas can net you clients. Before we get to some tricks that pros use, let's start with the basics.

What Is Postcard Marketing?
If you're not familiar with how postcards work, you need Postcard Marketing 101. Postcards are a smart way to market a local business. Businesses today face many options to market their business. You can market your business online. 
You're told by gurus that you have to be on social media, invest in SEO, PPC, and every other acronym out there. Those things all have a place in your marketing efforts, but postcard marketing ties them all together.
Postcard marketing is a type of direct mail that uses postcards to conduct an outreach campaign to a targeted area. They are used for a variety of business reasons. They can be used to generate sales, leads, website traffic, or create brand awareness. Postcard marketing is a useful marketing tool when you're a local business targeting a specific area. 
Here are a few examples of how businesses can use postcard marketing: 
Real estate agents send postcards to a neighbourhood to notify people of an open house. 

A fitness studio sends postcards out to everyone within a 10-minute drive of their location to promote a New Year's Resolution Special. 

A dentist sends postcard reminders to patients. 

A dog groomer sends postcards to pet owners within a few kilometers to promote a discounted pet grooming service. 
These are just a few of the ways that postcard marketing can help your business grow. Postcards work when you have a quick message to get across. They work better than standard direct sales letters because they have an enticing visual component and promote a specific event, and they easily integrate with other media.

How Postcard Marketing Works with Other Media
Postcard marketing isn't a standalone marketing tactic. It works in conjunction with your other marketing tactics to drive sales. Creating an integrated marketing campaign may seem like hard work. It's actually simple when you keep it to a few core marketing channels. 
You can start by using a postcard that links to a landing page with more information or to book an appointment. You could be promoting a new service and use social media to tease it and then follow that up with a postcard to your targeted area.

How to Have an Effective Postcard Campaign
Postcard Marketing 101: The campaign. Do you know how many times you need to follow up with a customer in order to get a sale? At least five. The biggest mistake that business owners and marketers make is that they only send one postcard to clients. 
They expect the postcard to be a slam dunk and change their business. That's not the case at all. Like any form of advertising, it takes multiple touches for people to remember your brand and then buy from you.

Plan Out Your Campaign
When you're doing a multitouch campaign, you need to plan it out. Lay out your goals for the campaign. Then, determine what the calls to action for each stage of the campaign are. Doing a campaign with three postcards for a new business could start with driving website traffic. 
That gives people an opportunity to get to know them. The second would be an offer to join a VIP or rewards club for signing up. The third could be offering a liftime membership and an accompanying discount. 
In each stage of the campaign, you're developing a relationship with potential customers. That can be a great way to create customer loyalty. This is much more effective than sending out a discount code that could end up eating into your business profits. You'll then have to hope that those people come back to your business, too.

The Design
Your design will be the first thing a recipient notices. People process images faster than text and they're going to form an impression of your company based on the design. A clean design with few images and a matching color scheme can make a solid impression. You want to make sure that your design doesn't look cluttered.

Copy
Out of all of the postcard marketing tricks out there, this one is the most important. Your copy starts with a strong, attention-grabbing headline. The main job of the headline is to get people to read on. Your headline should be clear and have a benefit attached. It can be in the form of a question or stated in a how-to. 
In the online world, lists are the most clicked-on articles (e.g. 5 Lessons That Changed My Life). Those types of headlines can grab attention. Your copy following that has to be brief in a limited space. You want to be sure that you can follow that up. After the headline, you want to validate why they're reading further. You can do that with a few bullet points that highlight the benefits.

Call to Action
A call to action is just as important as the headline. Without giving people instructions once they've read the postcard, they're likely to toss it. You don't want to come across as overselling in your call to action. Rather, you want to come across like you are offering value. The most effective calls to action have these characteristics: 
Give a sense of urgency: they give a specific time when the customer needs to take action. 
Has a reason or benefit to take action. 
Specificity: There is one, and only one, specific action a person should take. An example would be "Call 416-905-5555 by March 1 to receive your free fitness assessment when you tour our new gym." In that example, it gave a deadline to take action and gave the benefits to take action. Your calls to action should do the same.

Postcard Marketing Ideas to Help You Create a Perfect Postcard
Now that you understand how postcard marketing works and the basic elements a good postcard should include, let's get started with the actionable steps that will help you put theory into practice.
1. Make an Eye-Catching Design
Think about the way you want to design your marketing postcards. You can decide to make it look like a letter from a friend, an RSVP postcard, or even a To-Do list. To achieve a handwritten look, try script font or just regular handwriting font to write the main portion of your ad. 
You can also add crooked lines and even fake some sticky notes. Grandma might be disappointed once she realizes that she's not hearing from little Timmy at his summer camp, but maybe she'll end up buying your product.

2. Use Both Sides Creatively
The front of your postcard should have all the info - this includes the ways to contact your company, as well as the deal you're offering. Putting an engaging pitch on that side will give them enough motivation to flip the postcard over.
On the other hand, the opposite side of the postcard should feature bright colors and photos along with more information on how to redeem your offer.

3. It's All in The Paper
You might think that the size and texture of your promotional postcard will have nothing to do with your ad campaign. However, certain types of postcards will have a better chance of getting noticed in between bills and junk mail.
Choose a large postcard size, like 6x11 inches. That way, people will be able to easily find your postcard. This is better for people who aren't aware of your company, and also gives you more room to include any pictures, coupons, or maps.
If you do decide to put pictures in your postcard, ensure that they're high resolution so they print perfectly. Stay away from using any photos that are too stock-looking. Adding clear, attractive photos to your postcards will appeal to your recipients.
To get the most out of your postcard, use glossy, premium paper with full color. It'll attract the reader's attention right away and give off the impression that your products or services are high-quality.

4. Headlines Are Important
As we've already said, the headline is your hook, it's what makes your recipients want to keep reading. You want a bold, concise headline to be the main focus. It should be the biggest lettering on the front of your postcard.
Headlines are meant for brief announcements and for creating leads, not for adding tons of information or closing sales. Any confusing headlines with a barrage of information won't be appealing to your recipient - they'll probably just toss it in the trash.

5. Include a Legit Testimonial
Honesty is important in the field of marketing. Including a testimonial from an actual person that had real results can establish trust between your company and the customer.
Make sure that your customers are able to find this person online so they can confirm that they're real. The testimonial will vouch for your company and give your customers more confidence in using your product or service.

6. Engage Your Recipients
You shouldn't over-explain everything in your promotion postcard. Leave your customers wondering about your offer.
Writing something like "Learn more on how you can get 20 of our products today for just $30," is much more intriguing than simply saying, "Buy 20 of our products today for just $30."

7. Motivate Your Customers
You need to add a call to action or something on your marketing postcard that makes them want to do something.
Maybe offer them a discount or a free trial. For example, you can incorporate a discount by writing "Use this code to get 15% off your order." Always add an expiration date to the offer so the customer won't hesitate to purchase it in time.
Having only one call to action allows you to easily monitor the progress of your campaign. To make the tracking process even more simple, think about having your customers use the postcard as the coupon itself. This makes it easier to gain insight into how successful your marketing campaign is and how it can be improved in the future.

8. Include a Link
You should always put a link to your website on your postcard. Try to keep the link short and easy to remember, as your recipients probably won't immediately race to their computers to search for your link.
The next time they're searching the web, they'll remember your URL. Avoid long links like "domainname.com/offers/sale-on-products." You should make a new, easy-to-recall URL like "domainname.com"

9. Don't Overwhelm Your Recipient
Try not to bombard your reader with too many images and too much text. If you do, your recipient won't be able to process the key information on your postcard. They'll instead be distracted by the overwhelming amount of graphics.
Make it easy for recipients to follow through with your call to action. There's no need to go overboard by adding too much information.

Where To Start Your Postcard Marketing Journey
Don't underestimate the power of postcard marketing. Physical mail has actually proven to be more memorable than digital mail. Postcards don't require you to dig through tons of emails or rip open annoying envelopes. Postcards are simple and easy to read, making them the perfect way to get your point across.
If you're interested in making your own marketing postcard, take a look at our website to get started.
---