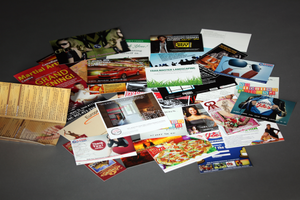 14 Creative Postcard Designs for Inspiration
Postcards are one of the most effective forms of print advertising. But using the right postcard designs will draw a reaction. Here are 14 creative designs for inspiration.
In our paperless society, it's amazing how effective and important our paper products remain. Using a postcard for advertising or promotion is still an effective and inexpensive way to relay your message to a lot of people.
Postcard design can be as elaborate or as simple as you like. There are endless possibilities for using postcards. They are small and convenient, and with printing technologies, you can have absolutely anything you want on them.
If you haven't considered using postcards for events or marketing, you should. Here are a few great ideas for postcard designs to get you started.
Great Postcard Designs
You don't have to limit yourself to just one. There are so many choices, they make the perfect tool for announcing special events, holiday deals or functions, and annual sales or events.
1. Your Logo
You can have postcards with your logo to use for all your events, announcements and events. The information can be added over top for any occasion you like. It's a great way to get it around and planted in people's minds.
2. Your Brand Colours
No matter what you print on it, use your own company colours. This will help people not only remember you but associate those colours with your product or service.
3. Lined Note Paper
Easy, clean design with many practical uses. Make it look like a To Do list, list items for sale or a list of events, locations or your contact info. It's instantly recognizable, easy to read and a fun idea you can reuse.
Memo, grocery lists, list of things we need to do are something we all have every day. It's easy and familiar and has a clean, uncluttered look to it. It's a simple idea with a great return.
4. Sticky Notes
Make your postcard look like a sticky note. We all use them, whether on our computer or the actual paper kinds. They are fun, familiar and you can keep using it for reminders of sales, events or let people know about your upcoming holiday hours of service.
5. Your Products
If you sell one or two particular items, get them on the card. Don't keep people guessing about what it is you do and what you have to offer. Use actual photos of your product, so people understand what they can expect.
It's bringing your product right to the people without actually having to haul them around. People will look at the picture and be able to imagine it in their home, themselves using it and how it will look in their own life.
6. Scenery
Scenery postcards are fun and effective for several reasons. They look great, and they can be extremely versatile. Use a beautiful scenery of your town or local park or lake. Or use your own location as a backdrop for your message.
They are effective because they are what a traditional postcard looks like. Something you send while on holiday or something you get from a friend on theirs. They are a traditional postcard used in a non-traditional way to great purpose.
7. Your Service
Incorporating your service on to the postcard is another great way to promote it. Use an actual photograph of your service in action, like a landscaper or dentist in a fun or stylized way.
You eliminate the need for a lot of text when people can see the service for themselves. People would much rather look at a picture than try to read text. You can make your point much easier by showing it.
8. Colours
Using colour is a great way to make your postcard stand out. Use contrasting colours for a bold look, black and white or a mixture of several colours at the same time.
Besides using your own company colours, there are certain colours that people relate to and react to. Red means power, green is great for your landscaping or eco-friendly products and earth tones are calming and reassuring.
9. Animation
Using a cartoon or animated character or depiction works really well. People relate to fun, simple drawings in a different way than actual photos. They are fun or cute, harmless and easily remembered.
It's particularly useful if you have a mascot or some type of logo you can make into an animated character. It stays with people a lot longer and if you use the same character in all your promotional ideas, it becomes much more memorable.
10. Humour
Everyone loves to laugh. Using humour for your postcard design is the perfect way to reach potential clients and reinforce the regular ones. It's even better when you can use humour to sell a service or product that people don't always see as funny.
Lawyers, plumbers, and dentists can all benefit from using humour, as these are services people need, but not under happy circumstances. Show your customers you understand how they feel.
Humour is the perfect way to bring people together and bridge the fears and anxieties people have about needing these types of services in the first place. There is almost a sense of relief in discovering your dentist understands you.
11. Include Discount Code
For drawing attention to your business, add a code on the postcard that people can use to redeem services or product. If it's something that needs to be presented at the store, people will come in.
A secret discount code is very effective. Mention the range of discounts available and only reveal the actual discount when the card is scanned at the cash register. People love a bit of a gamble and they love a discount.
12. Coupon
By making the postcard an actually coupon to redeem at your business, you can gauge how effective it is. It's a great way to get people through your door and see how well the promotion actually works.
People love to save money and they love clever ways of doing it. People remember your clever ideas and are more likely to use your business or service when you make an effort.
13. Riddle
Coming up with a riddle can be a great way to garner interest in your business. You can have a riddle on the postcard and offer discounts or other types of incentives to people who come into the store with the correct answer.
You can offer certain promotions to guests just for trying, as it's all about getting them into the store. Adding an element of challenge to people's regular shopping experience is a fun way to engage people and increase your sales.
14. RSVP
Your postcard can offer all kinds of free items, incentives, and discounts for people who return the card. It's great for special events, annual sales, and other promotional ideas.
It gives your event an elegant feel, like a wedding does, and makes all seem formal yet fun. People love to interact and it makes them feel like they are a part of something, rather than just getting promotional materials.
Why Postcards Work
These are handy little promotional items you can carry with you, mail out or even hand out. A nice design grabs attention and stays in people's memory. A well designed or clever postcard is something people are less likely to throw away.
It can arrive in the mail and be left on the counter, dropped in a handbag or briefcase all to be seen several times over. It takes up no room to speak of and is a handy item for other reasons.
Peoples often need a quick piece of paper to jot down an idea, a phone number or address. When they reach in their bag, your postcard is there. They will not throw away something that has their valuable information on it, and thereby remaining on their view for a long time.
Let's look at another reason why postcards work.
They're Interactive
When you add promotional codes or coupons to the card, you can make these interactive with all your online platforms, as well. Allow people to redeem the coupon on your website or claim their prize through a facebook or twitter account.
This means other people will also see it and become aware of your business. You can have a promotion on your postcard to offer discounts to people who recommend their friends and family via the website using a code or number.
You can easily track these promotions by how many new clients you get on your mailing list and hits to your website or retweets. Postcards are a nice, friendly and personal way to promote your company and it's very cost-effective.
Wish You Were Here
Hopefully, you have gleaned a few great ideas for your own postcards. Postcard designs can be fun, beautiful and really effective. You can come up with an entire series of cards to use to promote your service.
When you have a limited budget, you need to make the most of it. Postcards are the perfect way to reach a large target audience and stay within your advertising budget.
Postcards can cover a lot of ground for a very small cost. If you need more information or would like to place an order, feel free to contact us.
---