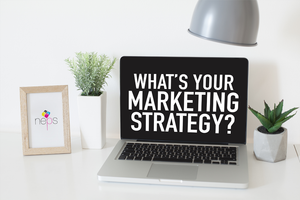 5 Effective Tips for Marketing Your Small Business in 2023
As the owner of a small business, you know that marketing and sales can dictate your success. So no matter how great your product or service is, you can't rely on that to bring in new sales and keep your business thriving.
Marketing strategies are changing all the time. With the introduction of new social media sites and technology, it might feel overwhelming to keep your business relevant and competitive.
But don't worry - there are several effective solutions you can use.
Read on as we explore 5 marketing tips for small business owners.
1. Make Your Website Work For You
Invest substantial time and energy in creating an awesome website. You want it to be user-friendly, aesthetically inviting, and designed with your ideal client or customer in mind.
Your website may be the first impression for many of your potential customers, so it has to be memorable. From the homepage make it easy for people to navigate to different areas of the site. Use icons and pictures as necessary to add personality to your site.
Another critical part of your website is the call to action (CTA). Think about what you want users to do when they visit your site. Do you want them to buy a product? Or subscribe to your mailing list? Whatever your goal is, create an easy way for customers to follow through.
For example, if you are selling eco-friendly water bottles you can feature a picture of your product on the home page along with a button that says "buy now". 
If the thought of creating and running a website for your small business seems daunting, check out companies that offer digital marketing services including website design.
2. Make the Most of Your Social Media Accounts
You don't have to be trending on Twitter in order to use social media to market your small business. Instead, use your social media accounts wisely. Tailor the content to potential customers and use it as an opportunity to show what your brand is all about.
For example, if you own a local pet shop you could post pictures of new animals up for adoption and share a few facts about them.
Make your social media posts relatable and authentic. Be consistent with the content you post so that your audience stays engaged. Make a goal for your content marketing on each social media site and follow through. If you are not familiar with social media sites, consider hiring someone to manage social media accounts for your business.
There are a whole host of social media marketing tips for small business owners but that should get you started. 
3. Carry Business Cards
It's true that a lot of marketing now takes place online. But as a small business owner, you should never underestimate the importance of networking. And a big part of in-person networking is keeping an up-to-date copy of business cards.
Your business card can help you connect with potential customers or other businesses that you could team up with in the future. It's a great marketing strategy if you attend conferences, speaking engagements, or networking events.
And business cards in the 21st century are much more fun than they used to be! You can create colourful designs, various card stocks, laminations and print finishes such as foil stamping or spot gloss treatments to enhance your business card that markets you and your business's brand. 
On your business card, you should include your contact information as well as your social media accounts and your website. It's likely that someone will want to follow up online to learn more about your brand.
Don't leave home without your business cards!
4. Engage With Your Customers
Another helpful marketing tool is customer engagement. If customers are posting questions or comments on your website or about your product you can engage with them. Showing your interest in customer feedback builds your brand which is essential for effective marketing.
Another way you can engage with customers is through giveaways. You can offer a special prize or discount code to customers for being loyal followers. If you are trying to increase traffic to one of your social media pages you can offer a giveaway just for following the account.
Engaging existing and potential customers shows that you value your clients and want them to enjoy your product. As with social media and other marketing content, make sure your customer engagement is authentic.
5. Build an Email List 
When you're thinking about how to market a small business you have to consider your short-term and long-term goals. And while it's great to get a customer to buy an item once, you also want them to become a repeat customer or an active follower of the brand.
When you collect customer email addresses you are building a community of potential. You can use this email list to launch any number of marketing solutions. So if you're running a promotion or releasing a new product, the details can easily be entered into an email. 
You can also use the email list as a way to show your loyal customers that they are a part of something special. They should feel like they are in an exclusive club. Try offering discounts just for subscribers or use the email to announce a great online sale before anyone else finds out.
While not everyone uses all forms of social media, most of us are pretty good at checking our emails. So it's more likely that you can get attention via an email campaign. 
The best part about setting up your email campaign is that it can be automated. You can set up emails to send at a particular day or time with just a few clicks. 
Making the Most of Marketing Tips for Small Business
Hopefully, you have learned something from these marketing tips for small business owners. Optimizing your online presence and networking with other businesses can help you take your small business to the next level of success.
Remember to stay true to your brand and always have your ideal client in mind when posting new content or marketing campaigns.
If you are looking for marketing services or quality printed products, contact us today!
---