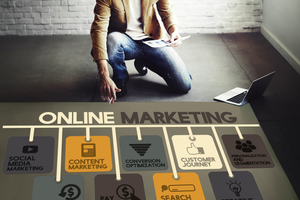 In the Social Media Marketing World, Branding Is Everything!
Social media is more than liking pretty pictures or sharing memes with friends and family members. Today, 77.6% of small businesses use social media to promote their brand, making it easier for these companies to attract new clients to their businesses. 
In the social media marketing world, every second counts. Otherwise, followers will scroll right by your post. With strong branding, however, you can stand out from the crowd and snag their attention.
Keep reading to discover the five reasons branding is everything to social media marketing!
1. Brand Awareness
How will people recognize you as the best in the business if they don't even know you exist?
In the social media world, you need to stand out from the pack. Otherwise, your posts will get swallowed by competitors in your industry. Social media marketing can increase your visibility, allowing you to get in front of potential customers. 
As more people start to see your brand, they'll start to recognize you, too. Brand elements such as a colour palette, imagery, tone, and voice, can help make your brand distinct. With a distinct brand, you won't only stand out.
You'll also become memorable to your audience. 
A consistent brand across numerous platforms can even increase a company's revenue by 23%.
That includes branded print materials as well as online. This consistency will help followers recognize you on sight.
Once they know who you are and what you do, people will think of your brand before a competitor's. In time, you can even turn this brand awareness into brand loyalty. As a result, you can retain recurring customers while attracting new people to your business. 
With social media marketing, you're able to make a lasting impact while increasing your visibility. 
As more people start to recognize your business and brand, you can:
Ensure new customers discover your product/service
Attract previous customers back to your business
Increase foot traffic into your store
Attract more online customers
As you work on your social media branding strategy, keep your specific goals in mind. 
2. Illustrate Authority
As consumers, we're pretty smart. We want to choose the best products and services at the best value. To make sure we're making savvy decisions, we often head online or scroll through social media. 
Before making a purchase decision, your customers complete the same research. They'll check your company's website or browse their favourite social media platforms to discover new brands. 
Consumers are looking for information, including statistics, case studies, and even customer reviews.  
The information you provide can give your business authority in the social media marketing world. 
Demonstrate that authority by providing consumers with relevant information. Branding yourself as a source of authority can help consumers trust your company over anyone else's. With strong authority as part of your brand, you can show customers you're knowledgeable.
Your content can help customers see you as a helpful, relevant resource in your industry. 
Once you show them the industry-expertise you have to offer, customers will approach you with questions. They'll also inquire about your products or services.
Show customers you're there to help. Start by posting helpful information and answer their questions on social media.
You can also show customers you're an industry thought-leader through informative blog and vlog posts. These posts can demonstrate your expertise and help customers recognize your authority. At the same time, you can also build your brand by showing (rather than telling) customers your expertise can help solve their problems. 
3. Display Authenticity
Dry posts that are filled with industry jargon read as distant and boring. 
In the social media marketing world, you want to appear authentic. People are more likely to connect with a brand that seems approachable and personable. Otherwise, brands might come off as haughty, standoff-ish, or robotic. 
So how do you ensure your brand personality makes an appearance in your social media content?
First, it's important to determine what personality you're trying to convey. Do you want to appear fun and playful, or professional and knowledgeable? You might decide to aim somewhere in between. 
Then, determine your voice and tone. Certain words and sentence structures can change how you sound online. Imagery can help communicate your brand personality as well. 
For example, cartoons can make a brand appear youthful and playful. Photos of business people in suits, on the other hand, appears more corporate and professional. 
Whatever brand personality you choose, make sure it's real and authentic. Branding yourself on social media can change how customers perceive your business. 
4. Encourage Engagement
As you start posting more on social media, make sure to encourage engagement. 
Consider hosting Q&A sessions or prompt your followers with competitions. There are always new ways for you to connect with your audience, so don't be afraid to experiment. 
Don't forget: social media platforms change a little every day. In addition to alterations to the algorithm, it's also important to consider new features. These features can provide you with new ways to catch someone's attention and get customers engaged. 
5. Show Support
Social media marketing also makes it easier for you to help your customers. Instead of getting stuck on hold after calling a customer service line, more customers turn to social media to request assistance. 
In the social media marketing world, it's important customers see you as helpful.
Otherwise, they'll take their problems elsewhere.
Here are a few ways to create a brand that's focused on customer service:
Respond quickly when customers post questions or concerns
Go out of your way to provide solutions
Listen to criticism (instead of deleting negative comments) and offer help
Know when to move public conversations onto private channels
With these tips, you can show customers you're supportive and responsive. 
Why Branding is Everything in the Social Media Marketing World
In the social media marketing world, your brand can make or break your company's reputation. You want to develop a brand that puts your customers first while demonstrating the unique value you have to offer. 
Looking for new ways to ensure your brand stands out from the rest?
Discover our Web services today for more ways to attract and engage customers!
---