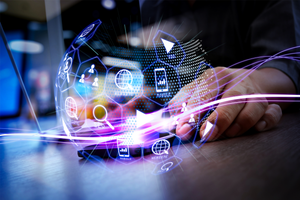 5 Components of Multi-Channel Marketing
95% of marketers know the importance of multichannel marketing. With numbers like that, it's more important than ever that your marketing efforts go multichannel. But what exactly is multichannel marketing and what are its components?
Here's a primer on marketing multichannel: what it is and the 5 main components of it that will keep you on the path to success.
What is Multichannel Marketing?
Marketing multichannel is the act of marketing one's product or service via more than one channel. In today's busy marketplace this might mean splitting your marketing efforts between social media, retail point of sale efforts, and print marketing – just to name a few.
The goal of marketing via multiple channels is to give your customers as much choice as possible when it comes to buying your product or service.
Some customers might opt for shopping via a brick and mortar store while others prefer online shopping. Some people look to Instagram for product inspiration while others peruse print magazines. The aim of multichannel selling is to capture sales no matter how your customers choose to shop.
Now you know what marketing multichannel is, here are some of the base components that can serve to make your multichannel approach a successful one.
1. Know the Benefits
Adopting a multichannel approach to marketing comes with a slew of benefits. Here are a few of them.
Relevance
Staying relevant is half the marketing battle and one not so easily won. Multichannel marketing is the future and adopting its practices can help your business stay ahead of the competition.
Put simply: we live in a multichannel world so adopting a multichannel strategy ensures your business doesn't get left behind.
Versatility
In today's online world, consumer attention is more split than ever before. People consume content on multiple platforms via multiple devices and mediums. To ensure your product or service is being seen, you have to market it in a similar fashion: multichannel.
Agility
The main benefit of the multichannel approach is its agility. You're no longer sinking all your time and effort into a single channel. Rather, you're spreading your marketing efforts across a diverse range of mediums and platforms. This ensures that should your audience's preferences change in a short period, your tactics won't be torpedoed. You'll be well-positioned to shift as your audience does.
2. Set Clearly Defined Goals
Goal setting is a crucial part of any business venture, including marketing. In order to plot a path, you must first know where you're going.
When setting marketing goals, it can be helpful to ask yourself the following questions:
How do you want your brand to be perceived?
What is your unique selling point?
What type of return on investment will constitute a success?
How will you measure results?
The answers to these questions should be written down and referred to throughout the planning and implementation process. If something runs afoul of your goals, put it under a microscope and interrogate its relevance to your strategy. If something gels well with your intended goals, you'll know you're on the right track.
Approaching multichannel marketing with clear goals in mind will ensure your efforts don't go to waste.
3. Identify and Prioritize Key Channels
For all that the multichannel approach prioritizes diversity, you must have some specificity. This means identifying and prioritizing specific marketing channels.
To narrow your field, you should look to your target audience. Every target audience is different and it's essential that you understand yours. Knowing who your target demographic is, what platforms they use, and how they behave will help you identify and prioritize the right marketing channels for your business.
When in doubt:
Consult your target audience directly by asking them what channels they use
Follow notable influencers in your industry and learn from them
Study up on platform pros, cons, and limitations
Learn how your users behave on specific platforms
The research garnered from these points will help you narrow down a handful of marketing channels worth your attention. 
4. Cater Your Content to the Channel
Content marketing is as much about context as contents. One piece of content can be received in radically different ways depending on where it's deployed.
When opting for multichannel, you must ensure your content is carefully shaped to fit the channel it's used on. Sharing a long-form email marketing campaign on Twitter isn't going to do you much good (and may actually lose you followers).
This is where research becomes your best friend:
Learn the conventions of the platforms you intend to target and stick to them
Look at what influencers are getting up to and mirror their approach
Study your competition and learn from their campaigns
When in doubt, follow your target audience and take note of how they use specific channels. You'll be surprised by how much you can learn from those you're targeting.
5. Measure Your Results
All the best marketing efforts in the world won't mean much if you're not measuring the results of your campaigns. Whether you're tracking email opens or ad clicks, properly monitoring the results of your efforts will ensure you know what works, what doesn't, and what you should do differently next time.
The good news is, most digital marketing channels come inbuilt with tools to help you measure your campaign results. Analytics, insights, and other methods of reporting are common-place online, you just have to make the effort to learn how to use them.
Learn to Market via Multiple Channels
In today's multi-platform world, multichannel marketing is the future. To say relevant and agile, you need to ensure your marketing efforts are taking full advantage of the multichannel dichotomy. 
Now you know everything there is to know about the multichannel approach: what it is, how it can benefit your business, and how you can leverage it in your next marketing push.
Want to up your website game? Here are 7 tips to enhance your professional website.
---