UV Coating

UV coating is a shiny liquid coating that is applied to the surface of your printed piece to seal in your ink and than cured with an ultra violet light. This process is done after the printing is completed. This treatment adds a high gloss finish and is commonly used for business cards, postcards, mail out campaigns, booklet & magazine covers.
There are two different types of processes for UV coating, flood UV or spot UV.
Flood UV: Flood UV means exactly what it sounds like, the full surface of your printed sheet is covered from edge to edge.
Spot UV: Spot UV is applied only on specific areas to highlight certain elements of your printed piece. Generally used for highlighting logos, titles and pictures. When saving a file for spot UV, it must be done in a particular way. To learn more about how to save your file, scroll down or visit our FAQ page.
---
Watch our video below to learn more about UV Coating
---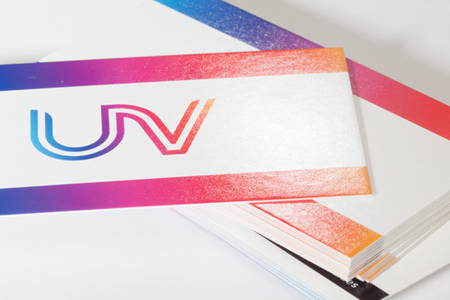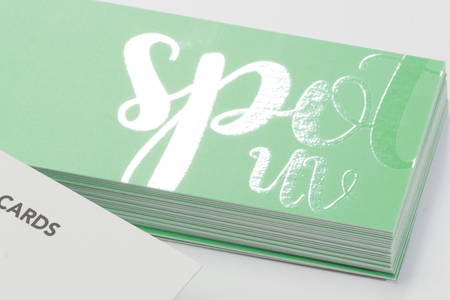 How to set up files for spot UV?
When saving a spot uv file, you must include a spot uv mask file in addition to your print file. The mask file must be in the exact position as per the print file. If the area you are spot UV has a coloured background, please leave the fill of the background in the file. Please note, the mask file must be vector art created in a vector based programs such as Illustrator. The spot UV mask file is used to show where the foil needs to be applied. Be sure to only use solid 100% black. Colour code: C-0%, M-0%, Y-0%, K-100%) to indicate where you would like the UV applied. Do not use shadows, glows or grayscale images. The black mask file should be on a plain white background. Accepted file mask file types: pdf, eps or ai. This iinformation is also available on our FAQ page along with other resourceful information.
All of our UV is done in-house at your Mississauga location just outside of Toronto. Anytime you add foil stamping to your printed products, it does add 1-2 days of production time.
---
If you have any questions, contact us now, we would be glad to help!
Thanks!
This field is required
This field is required
This field is required
---