Embossing

Definition: Often used in combination with foil stamping, embossing alters the surface of paper stock or other substrates by providing a three-dimensional or raised effect on selected areas. The procedure requires the use of two dies: one that is raised and one that is recessed. The dies fit into each other so that when the paper is pressed between them, the raised die forces the stock into the recessed die and creates the embossed impression. A specific level of pressure is applied to the dies in order to squeeze the fibers of the paper, which results in a permanently raised area in the paper.When the dies are produced, a die maker engraves the desired image into several metal plates, which are the embossing dies for use on an embossing press. A thorough understanding the process will enable a more successful result. Generally, embossing is the process most often employed to attract attention or convey a high quality textural contrast in relation to the surrounding area of the paper stock.

In our words: Embossing is a specialty finishing treatment that can be added to many of your printed products. Embossing can be done with on printed ink, foil like the photo above or on blank stock. It essentially pushes your desired area through the surface of the paper. When designing for embossing, you have to keep in mind It will create a debossed look on the back.
---
Watch our video below to learn more about ebmossing
---
Embossing is commonly used for:
• Letterheads
• Note Cards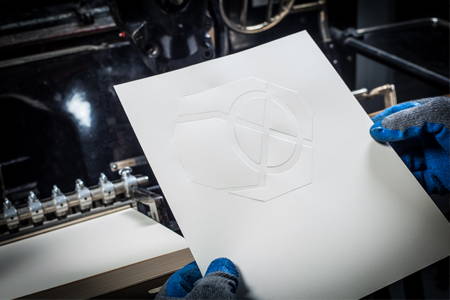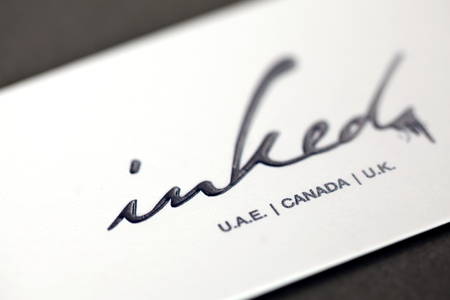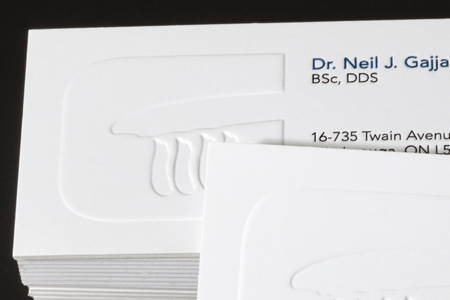 How to set up files for embossing?
When saving a file with embossing, you must include a embossing mask file in addition to your print file. The mask file must be in the exact position as per the print file. If the area you are embossing has a coloured background, please leave the fill of the background in the file. If your are embossing a logo or type, do not include them in your print file. Please note, the mask file must be vector art created in a vector based programs such as Illustrator. The embossing mask file is used to show where the embossing needs to be applied. Be sure to only use solid 100% black. Colour code: C-0%, M-0%, Y-0%, K-100%) to indicate where you would like the embossing applied. Do not use shadows, glows or grayscale images. The black mask file should be on a plain white background. Accepted file mask file types: pdf, eps or ai. This information is also available on our FAQ page along with other resourceful information.
All of our embossing is done in-house at your Mississauga location just outside of Toronto. Anytime you add embossing to your printed products, it does add 1-3 days of production time. There is a die cost involved with everything that you wish to emboss. Dies can be reused on other printed products or on repeat orders. The die is made out of metal and is generally a one time fee. Approximate cost per die is an average of $95-$145 depending on the size of the die. Once you have purchased a die, the only other costs involed are application of the foil. Each side and each location will add an application cost of approximately $85 for up to 1,000 embossing impressions and $40 per additional 1,000 after the first.
---
If you have any questions, contact us now, we would be glad to help!
Thanks!
This field is required
This field is required
This field is required
---