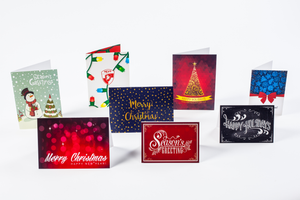 Send Joy This Season with Custom Company Holiday Cards
In today's modern age of texting and emails, it may seem crazy to do something as "archaic" as sending company holiday cards--in the mail no less!
The truth is, it's the seemingly "small" personal touches that evoke highly positive emotions on the part of clients and customers who are on the receiving end.
A recent article in Forbes attests to the important role emotions play in our business decisions, even if we try not to let them. So, if your business is looking to build trust, reliability, and familiarity with others, sending personalized holiday cards is a great method.
If you're still not convinced, here are 5 highly persuasive reasons you should send company holiday cards this year.
1. Reputation Management
"It takes many good deeds to build a good reputation, and only one bad one to lose it." -Benjamin Franklin
Is your company is in need of some serious reputation-damage-control this holiday season? Or, are you simply looking to add to your stockpile of good business "deeds"? 
Whatever the reason, sending company holiday cards is always a good way to improve your business's reputation. Happy employees make for happy customers. Happy customers make for greater profits. 
When it comes to company Christmas cards, you shouldn't be sending them just to customers or clients. Your employees' views toward your business can be largely affected by your treatment of them during the holidays.
If you take the time (and spend the money), to show employees they are worth at least a card, a stamp, and an envelope, you may be surprised how much they appreciate it.
If employees feel valued, you can bet they will have good things to say about their place of work. This, in conjunction with reaching out to customers and clients, all work to build a positive image for your brand.
2. True Personalization
Physical company holiday cards give you have the added advantage of tailoring the message to each person receiving them. Personalizing cards will take a little extra time, but the payoff is great.
With the same generic card sent to everyone, you won't can't mention that inside joke or amazing business deal with an individual client.
Personalized holiday cards are also an easy opportunity to offer appropriate thanks and praise for a job well done. Employees who feel recognized for their efforts and good work are more likely to continue to live up to the praise given.
Consider making it a standard company practice to include a personalized note on each card for your employees. You may be very surprised at the impact such an effort has on company morale. 
True personalization occurs with each mailed card you send.
Of course, that's not to say you have to hand-write every card. You can still order beautiful holiday cards to be printed and mailed via Canada Post. This gives you the chance to write a note or add a line to any card you choose. 
3. Provide Real Value
The fact of the matter is, you are a business. There's no need to try and hide this fact during the holiday season. It isn't a bad thing. Many customers appreciate being treated or rewarded during the holidays for their loyalty to you.
Because of this, personalized greeting cards are a great way to include information about a holiday sale or special you have going on. Or better yet, offer a special discount or promo code for users. 
Give your customers an added reason to open your card. Slip a coupon inside, promote a hashtag, offer a deal.
Customers will likely look forward to getting your personalized cards every year if they know there's something in it for them. Literally.
4. Show Authenticity
Unless they include a dancing elf, most people usually auto-archive those generic holiday email greetings. There's no personal touch.
Emails enter your inbox and you know you are simply another name on a long list of addresses receiving the same mass message. In fact, the company CEO probably didn't even know what was in that email...
With a physical holiday card, addressed, stamped, and personalized, your customers, clients, and employees will see your authenticity. There's no questioning whether your executives take a genuine interest in their people and influence.
Because of this, physical cards are more likely to garner real engagement. Customers will see them, open them, and actually think about what's inside.
Your authenticity as an employee-friendly organization is also promoted by individual holiday cards. The investment of time and money shows employees that their happiness in the workplace is a top priority.
5. Reconnect and Develop Relationships
How do you feel during the holidays when you get a greeting card from that old college roommate you haven't seen in years. What emotions does that card evoke?
You probably open that card and say, "Hey, I remember that guy. He was a riot, I miss him." Well, your clients may have a similar response when Christmas or Hanukkah rolls around and they get your company card in the mail.
They could open it and say, "Hey, I remember this company. They offered great service, I'm going to use them again." 
It never hurts to utilize the holiday season as a good excuse for reaching out to old customers or clients and reminding them that they matter to you---and that they like what you have to offer.
Company holiday cards also work to develop new relationships.
Show new or potential clients that they are important to you by hand-writing a note inside their greeting card. 
The relationship benefits of such a personal touch are endless.
Choosing the Perfect Company Holiday Cards
Company holiday cards are far from being a thing of the past. On the contrary, they are a great way to show your employees and customers that they matter to you.
With the right printer, you can create a customized holiday greeting card to suit not only your tastes but your company budget as well.
For questions about card printing, quantities, or design options, chat with us today!
---