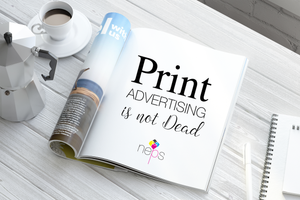 Making The Most of Your Brand Through Print Advertising
Nine out of 10 customers still think printed materials help with marketing. That line of thinking is evenly spread out among all generations. 
While digital marketing is extremely convenient, people still enjoy and look for, print advertising. That's partly because unlike digital marketing, print marketing is tangible.
But there are many other advantages as well. And printing advertising also has a lot of range.
If you're wondering about the types of print advertising and its advantages, keep reading. We're sharing with you everything you need to know about print advertising. 
What Print Advertising Is
What is printed media? The print advertising definition is that it's a form of advertising that uses physically printed media to reach their target audience.
Types of Print Advertising
There are several different types of print advertising available such as:
Brochures
Consumer and trade magazines
Direct mail: Postcards and letters
Business cards
Billboards and posters
Flyers
Letterhead and envelopes
Promotional materials
Newspaper and weekly ads 
Each type of print advertising has its set of advantages and disadvantages. 
Advantages of Print Advertising
It's incredibly easy to multitask when you're using a digital device. It's not uncommon for someone to have open several tabs while talking on the phone with the television on. 
And when that's happening, you're not paying close attention to anything. Printed materials in the form of a newspaper or magazine capture our attention simply because there's less opportunity for our attention to be captured elsewhere.
It's often easier to capture someone's attention in print rather than online simply because they're more focused. 
People are Now Unplugging From Technology
Science is proving that unplugging from technology every once in a while has myriad benefits such as:
Better sleep
Helps you recharge
Improves relationships
Increased quality of life
And since humans can't sit around meditating all day, we'll usually turn to print media to inform, engage, and entertain us. 
Increased Credibility Factor
To create an online publication you don't really need money, you just need time. It's expensive to create a printed publication people will read. 
They're expecting high-quality, reliable content. Developing credibility with their readers is essential and advertisers know this. 
If you place an advertisement in a printed publication such as "Time" magazine, the readers expect that your business is just as reliable and trustworthy as the magazine itself. That means it's easier for you to generate leads and sales from advertising in printed materials. 
Options and Flexibility
A print ad lets you choose the section of the magazine or newspaper your core audience is most likely to read. You can also select magazines or newspapers that only get delivered to specific geographical locations. 
You can also choose whether you want your ad to run in Sunday's paper or Tuesday's paper. 
Tailor Fit for Your Budget
You can also choose how large an advertisement you want based on your budget such as:
Quarter-page
Half-page
Full-page
Working with print also means you're always working with a human to make advertising decisions rather than an algorithm. 
How to Get the Most Bang for Your Buck with Printing Advertising
Like any form of advertising, you won't have an effective campaign if you don't follow a few simple rules. Start by determining which materials you actually need for your business.
You don't need letterhead and envelopes if you send out all your information digitally. But keep in mind the fact that while 88% of all business cards printed are tossed out, for every 2,000 you hand out, your sales increase by 2.5%. 
Keep Your Brand Consistent
Your brand needs to look the same whether someone is looking at your website, social media page, business card or billboard. That's how people begin to recognize your brand. 
Figure out which colours work best for your business so you stand apart from your competition. Use the same font and logo in all of your advertising. 
Know Your Audience
Knowing who you're marketing to is just as important offline as it is online. And in print media, knowing your audience will help you figure out where to put your marketing dollars so you generate a successful campaign. 
You might find your audience responds better to postcards than a personalized letter. If you attend a lot of events, handing out free personalized pens or t-shirts is a smart idea. 
Don't forget that you can also use printed marketing to target people's pain points. You just have to know enough about your core audience to find the right medium where they'll react in the way you want. 
Try a Time-Dependent Offer
With a digital campaign, you can include a CTA (call-to-action) that includes a link. It's easier for people to take immediate action.
With print, it's a little more difficult. They may put other mail on top of your flyer or turn the page in the magazine.
One way to get your target audience to take immediate action is to send them a time-dependent offer. You can then count the number of people who took action within the time limit to get a good understanding of how future offers will go over. 
Learn the Basics 
With digital marketing, you can end up wasting a lot of money if you don't have the slightest idea of what you're talking about. You may end up agreeing to pay-per-click ads (PPC) when they're not necessary. 
The same is true for printed advertising. Take a little time to learn the jargon. Understand the types of paper available for printed materials.
The more you know, the easier it is to stay within your budget and make smart decisions. 
Hire a Professional
Anyone with a computer and a printer can make their own printed materials. You can even design your own logo. But that doesn't mean they'll look professional.
It's a smart idea to invest a little money in hiring a professional company who can design your printed materials so they capture the attention of your intended audience. 
Work With Us
Print advertising will always have a place no matter how far advanced we become in technology. But you always need to know who to work with. 
We're a professional company that works with businesses both on and offline to help them make the right impression. And we'd love to work with you. Click here to contact us. 
---