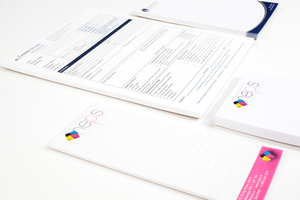 How to Design Attractive Personalized Notepads
There you are, face to face with a business client, and the only thing you've got handy to write notes on is an old envelope. Talk about embarrassing!
No one is going to take you seriously as a business person if you use whatever scrap of paper is handy for important notes. 
Using a regular notepad is a step in the right direction. However, there's another surefire way to make sure everyone you work with not only thinks you're a professional but also remembers the name of your business.
It's time to make some personalized notepads.
But what goes into creating the best-customized notepad?
We're here to give you a few pointers to make sure whatever notepad you create truly represents your business.
Create an Eye-Catching Logo
Your logo is usually the first impression you make on a customer. Any potential client needs to be able to understand the personality of your business at a glance. 
A good logo is hard to forget, unique, and clearly represents your business. 
There are several styles of logos to consider.  
Classic style - Clean lines. Subdued colour palettes. Basic, but interesting fonts.
Vintage style - Looks slightly worn-out. Hand-drawn. Earth tones.
Minimalist style - Uses a lot of whitespace. Simple lines.
Quirky style - Includes a cute mascot or illustration. Colourful and friendly.
Each of these styles gives the viewer a different impression about what you're trying to represent.
Classic styles appeal to a wider audience and gives the impression that you're reliable.
Vintage styles invoke a sense of timelessness. Customers feel like you've been around forever.
Minimalist styles show clients that you're trendy and up to date with current styles.
Quirky styles invite customers to relax and smile. 
Using Colour Theory to Your Advantage
While creating your logo, you also need to consider what colours you use. This is where the psychology behind colour theory comes in handy.
About 85% of customers admit to choosing items by colour. With that kind of impact, it is vital to pick a colour for your logo that sends the right message. 
Black- Dramatic, sophisticated
Blue - Trustworthy, secure
Red - Bold, passionate
Yellow - Optimistic, innovative
Orange - Vibrant, energetic
Purple - Enchanting, regal, soothing
Green - Natural, rejuvenating, wealth
Gray - Sleek, timeless
Brown - Grounded, robust
Pink - Festive, fun, feminine
White - Purity, innocence, simplicity
Colours are so important to how people choose products and services, sometimes a colour becomes associated with that one thing.
Think about a hospital. What colour are the nurses' scrubs? Most people will say blue, even though there's an infinite variety of scrubs on the market. Why? Because blue is calming and makes us want to trust that item or service provider. 
Select What Information to Include
Notepads need to be functional. They're not brochures. They're marketing tools that happen to also be useful.
In order to make sure your personalized notepad is still functional, you need to include only the vital information.
Business name
Address
Telephone number
Email address
Website address
Picking a Personalized Notepad Size
You don't want to hand a client a notepad the size of a Post-It that is halfway covered by your business information. There has to be space for them to use your custom notepad. 
Non-functional marketing materials wind up in limbo—a.k.a. someone's junk drawer.
Save your business from going in the junk drawer by giving clients a notepad they can use every day. 
Customized notepads come in several sizes. Here are the most common, arranged from most to least popular.
4.25 x 5.5 inches
8.5 x 11 inches
Selecting the Right Paper
Most custom notepad printers only offer one kind of paper. That's both a good and bad thing. You just need to know what you're looking for to avoid choosing the wrong printer.
Lightweight paper in a notebook will tear easily. Ink pens can bleed through the pages. The paper will also warp, making it difficult to write on the notepad.
Ideally, you want a higher grade paper, around 60lb. Make sure the paper stock is uncoated. Ballpoint pens don't work well on glossy or coated paper stock.
Consider an Interesting Notepad Style
Some businesses can get away with having more unique customized notepads. 
An architect, for example, might want to turn the notepad into graph paper. A nutritionist would get more mileage from their notepads if they were styled to look like shopping lists.
So long as the twist you put on customizing your notepad meshes with your business mission, the sky is the limit on creativity. Just make sure the fun ideas don't take up all the writing space on the notepad.
Uploading Your Graphics
Every personalized notepad printer will have different requirements for uploading graphics. Make sure to carefully read over what they want before finalizing your images.
There are two things in particular to look out for, bleed size and trim size.
Bleed is the very edges of the product. Fitting graphics to the bleed size means there's no awkward white border around the notepad edges after printing.
Trim size is what the product will be cut down to during the printing process. All your important information and logos need to fit within the trim area. Anything between the bleed size and trim size may be removed.
Generally printers will want:
All the text embedded in the graphic file
High resolution PDF or JPEG file (300 dpi)
All images and text fit within the trim 
Choosing the Right Printer for Your Personalized Notepad
There are hundreds of printers online who make personalized notepads. The best ones are those who offer to go the extra mile for the customer. 
Will the printer talk to you personally about any problems you have? Are they willing to fully customize the product?
These are important considerations, especially for businesses who want to make a notepad that's outside of the standard letterhead and basic graphic style.
Your business should have the chance to shine. Creating a notepad will put your business on people's desks where they'll see it daily. 
When you're ready to get started, check out our selection of customized notepads.
---