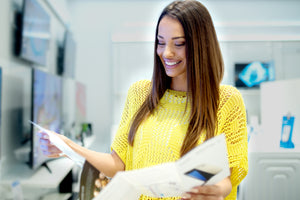 How to Create an Effective Marketing Brochure Campaign
80% of business decision-makers believe that improving their customer experience set them apart from their competition.
Attracting potential clients is one thing, but take note that people are very cautious, especially when trading online.
That is why companies, whether or not they have an online presence should consider giving out brochures as well as the other different forms of printed literature to potential customers.
When creating a sales brochure, using quality attractive images, knowing your customer need, and providing the links to your social media can help you get a good response.
Making the wrong impression can alienate you from your customers, and you run the risk of losing sales.
Are you creating a marketing brochure campaign? Brochures are an effective printed marketing medium. Here's how to create an effective campaign.
Know Your Customers Needs
You've got to design your brochure from the reader's point of view. This means that the content has to flow in the right order. Start by analyzing what your clients need to know.
This can be done by assessing the order which the readers' questions will flow. For instance, assume that you own a fast food that sells tacos and burgers.
You're interested in getting your readers to buy from you. Given the nature of your business, clients will have a lot of questions that need to be answered before they decide to come to you.
When designing your brochure, it has to answer their questions following their train of thought.
The best way to organize your points is by writing down the questions that your potential clients may have, and the answer your brochure will supply.
Use Graphics and Headlines Your Audience Will Care About
Most readers take an average of five seconds at the cover of a sales brochure to decide whether or not they are going to read it.
If you've got a dull cover without effective headlines, nobody is going to bother reading your brochure.
A brochure with people watching a presenter writing on a chat that reads "matching people and strategy" isn't going to get anyone's attention.
However, one with a photo that shows a businessman giving thumbs up to a group of associates and the title heading reads "Train Your Team To Attain Greater Sales" is eye-catching.
Give Your Clients a Reason to Act
If you don't urge your readers to act now and provide reasons for doing so, then your marketing efforts will go to waste. Your clients will opt for the thing that grabs their attention.
Some of the offers that may get your clients to buy right away include rebates for purchase by a specific date, gifts purchase by a particular date, and discounts valid to a specific date.
Others that might not require giveaways or discounts include reminders to buy now because the price may increase or that the quantities are limited.
Incorporate Images
It's crucial that you include images on your brochure, but it has to be relevant to the text and product.
Images help to breakdown the text making it easier to navigate. The images have to attract potential buyers and convince them that they need to use the product.
For example, if you are making a brochure for a country club images such a swimming pool, a café, or golf course may be appropriate.
People tend to be attracted by something fun, intriguing, and beautiful, which is something you can get from images.
To make your brochure more reader-friendly select photos that focus on the main theme of the brochure.
Also, you have to avoid generic images. Try to invest in paid images, and if you've got budget for a photo-shoot, then it's much better.
Make Your Brochure Professional
Your brochure may be well-written, but if it's not well designed, you won't get much response.
Your brochure will look unprofessional if it includes too many colours and fronts. So, if you're going to design your brochure, you need to give it a professional look by using different free design templates. Many online printing sites that can help you get started.
Make It Easy to Respond
When designing your brochure, your website URL, phone number, and business name should be easy to find on the flyer.
You shouldn't overlook social media as it can easily attract a good following, especially from those who follow you regularly.
The other thing to consider is incorporating a QR code that can take people to your product page or a page that they sign –up for your newsletter.
Widen Your Options
Making different brochures designs from a single project can help you in your marketing campaign.
Brochures don't have to look the same. Today's advertising world needs are changing, and providing your customers with different options can help build your reputation.
That aside, your audience gets the chance to choose what they like best.
Provide Directions
Brochures should be designed in a way that readers can go through and find what they want.
Therefore, you need to provide clear headlines or signposts throughout the brochure that can easily get the attention of your reader.
Drive More Sales with an Effective Marketing Brochure!
While brochures can contribute significantly to your overall marketing campaign, they've got to be professionally designed.
This means that they don't have to include too many small fonts or too many colours.
Your readers also have to find it easy to act, but this is only possible if your marketing brochure features offers such as discounts or gifts.
Images play a huge role in your brochure marketing campaign. So, if they've got to be included, then they should be relevant to the text and product.
They also have to convince the reader why he/she has to opt for a particular product/service.
You shouldn't miss to include your business name, phone number, website URL as well as all your social media handles as it makes it easier for people to follow and reach out to you.   
Are you looking to improve your business marketing campaign? Check out our blog to learn how printed materials can help market your business.
---