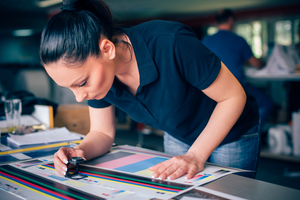 Best Benefits of Using Managed Print Services
Business moves fast, and it won't stop while you remove a jammed piece of paper from your inkjet printer! As you pull out another shredded marketing piece, you wonder;
"Is printing this myself the best option?"
The Ford Motor Company asked this same question when they made the change to a managed print service. Now they are on their way to saving 30%.
Could there be something here for you too? New advances in printing can offer the best quality to more businesses like yours.
Here are some the important benefits to consider as you decide if a managed print service is right for you.
Print Experts
Have you ever struggled to get the correct colour or perfect folds on a newsletter? Then you understand how small problems can take up a lot of time to fix. This is where a printing expert is essential.
A printing expert can decide what materials you need for your products. They can also spot possible problems during a print run and make the right call to make sure it's avoided. Years of experience have taught them how to make the right call and to think on their feet.
Placing your printing into the hands of a pro will save you and your team a lot of time to money. Experts do it better. We see it everybody with our team who had 65 years of combined experience.
Print Green
58% of consumers reported that they consider environmental impact before they buy. Today, you can meet all your printing needs and be responsible for your environment. Increased sustainability will be peace of mind for you and for the people you serve.
MPS services can reduce your carbon footprint by:
Reducing the distance your goods have to travel.
Reducing the number of shipments.
Using a production method that minimizes waste.
Predictable Costs
Knowing what you can expect to spend on printing is helpful when planning the company budget. Managed print solutions can ensure that you have the right pricing every time.
A long-term business relationship will allow for more flexibility in pricing. When you have become acquainted with your printer, more options can be created to better suit your needs.
Surprises or unknown factors in printing will no longer be a headache. Once you have placed an order, setting up pre-orders or recurring orders is very easy. You can always know how your order affects your bottom line.
Reduced Costs
Some people may opt to buy their own printing equipment for the benefit of speed. The idea of having what you need when you need it sounds great.
But a printer is a machine, and machines tend to break down and need maintenance. Once you factor in supplies, parts, and service technicians, the expenses will add up.
If a machine is down, it could be a huge setback. You can lose valuable hours, or even days, waiting for an issue to be resolved. If you have a lease that binds you to a fault-prone machine, you could be in real trouble.
There are also many print providers who outsource their work. This results in higher costs for you the customer. Here at NEPS, we do all our production in-house, and the savings go to you.
Once you free up this money, you will have more to spend on the best printing services available and other line items in your budget.
Flexible Printing
Have you ever had to wipe a tear while you recycle an entire box of letterhead because the address has changed? Now, all that unpleasantness can be avoided. With a Managed Print Service you can get the printing you need when you need it, in the quantity that suits you now.
If you need a small amount of printing, you can have it done without compromising quality. When your business grows, you can print more. Our design service can also create new versions of your products to suit your business needs.
As printers, we understand that often times you need your next order 10 minutes ago. This is where our same-day printing can save the day. If we have an order by 1 pm, it's ready for pick up by 5 pm or next-day delivery.
Best Print Technology
Having a state-of-the-art digital printer in your office is not always an option. They need a lot of space and expensive to maintain. What if your model becomes outdated and you want to upgrade? You either need to make another large investment or enter into an expensive lease.
Print management services will offer entire fleets of top-of-the-line printers for your printing. When you use the best printers, your company's printed material will look world-class.
Consistent Printing
The same digital print file can print very differently between printers. Multiple factors will come into play here:
Software
Printer calibration
Paper choice
Quality of machines
With so many variables, it's not likely that any two printers will have exactly the same output.
This can be a scary position if you are the person responsible for your company's printing. Every business card and direct mailer is representing your company. These points of contact will communicate what you're all about. Having a trusted printer to deliver great prints every time is what an mps service offers.
Your colours will always be sharp, and the advanced finishing options you choose will always be exact. It's those experts again, and they are ensuring that your orders are completed with the highest standards.
Starting With Managed Print Services
It may seem like a leap to do your printing off-site but consider the gained advantages. A managed printing service will expand your abilities and make your operation more efficient.
Your options for print products will increase the ways you can reach out to the people that matter most for you.
Experienced experts who use the best technology will create better products.
You will have more time and resources to devote to other tasks.
It all contributes to moving your company forward. Are you curious about how a managed print service could work for you? Contact us so we can explore your options together.
---