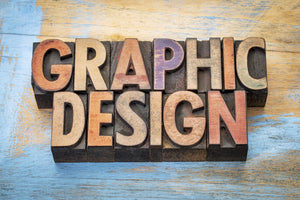 8 Ways Graphic Design Services Elevate Your Marketing Strategy
Graphic Design Services Elevate Your Marketing Strategy
Looking to take your business's reputation to the next level? Click here to learn how graphic design services can help elevate your brand.
Great graphic design services provide visually-striking assets to promote brands, build awareness, and drive sales. Many small business owners shy away from design services. They see it an added expense to their tight budget.
Instead, they attempt creating design assets in-house. The result? An amateur collection of assets ultimately harming the brand image and sales potential. An investment in good design could have made a world of difference.
Here's why and how design services improve marketing efforts.
8 Essential Graphic Design Services to Boost Marketing Efforts
The shift to online business has shattered the print industry. Yet, print marketing remains a strong vehicle for brand awareness and sales. In fact, 56% of direct mail recipients find it more trustworthy compared to other media.
Let's begin your adventure with printed graphic design services. Then, share how to leverage designs to double-down on marketing efforts with digital designs.
1. Business Cards
Every interaction is an opportunity to promote your business. Except, names are quickly forgotten once the conversation has ended. A business card acts as both a reminder and branding campaign.
Specialty cards, with unique features, can leave a lasting impression on their recipient. A card matching the website creates continuity from first interaction to their visit.
How else can business cards add to the marketing?
Include a promotional offer
Use it as a physical coupon
Direct holders to landing pages
Distribute your card wherever possible. This includes local meetups, bulletin boards, and relatable small businesses.
2. Flyers & Brochures
You have about 8 seconds (or less) to grab people's attention.
Flyers & brochures typically include detailed information. This is a barrier. A person first looks at the design before they commit to reading its information.
Flyers & brochures act the same as a business card -- except larger.
These items can:
Explain what your business does
Provide info about events, deals, promos
Launch a new product or service
But, again, you must capture their attention before they move on. Or, bin the item if receiving it through mailers. Capture attention using design principles.
Keep. It. Simple.
Gather creative assets from inspirational sources. Then, spin the design/layout to your business needs. Add to it and you've got an effective marketing tool!
3. Books & Booklets
Imagine the clout if someone handed you a book instead of a business card.
Writing a book in your industry has diverse benefits:
Be seen as an authority on its topics
Claim-to-fame because of its publication
Define your brand and its market placement
Creative INDIE did a small-scale case study. They found a great book cover increased sales by nearly double. Since sales equal exposure, great graphic design services would pay for itself with this marketing intention.
Also, a book may act as a lead generation asset. Peppering the book with links to your website could convert visitors into clients.
4. Coupons & Offers
Graphic design services may provide options for coupon templates. These templates could adjust to campaigns and seasonal promotions. Or, act as discounts during a new offer launch.
What are coupon benefits?
Build customer loyalty
Increased conversion
Dump old stock
Consider including coupons in weekly mailers. Or, send them to verified customers at moments when they'll likely need the offer again. This creates a touchpoint keeping customers loyal while moving stock & reaching sales goals.
Coupons & offers could also develop joint ventures by pairing with a related business. The coupon gives discounts while cross-promoting offers from within your referral network.
5. Catalogs
Catalogs create different marketing avenues -- promoting:
The business
The offers
The culture
Print catalogs align with our topic of book covers. An eye-catching cover entices recipients to open the work. Once inside, the catalog educates recipients about business operations and what it offers.
You may use the catalog for brand awareness. Or, include call-to-actions encouraging readers to inquire services or order products. The catalog also injects company culture -- helping attract/retain talent and uniqueness.
Crisp product photos or service infographics entice impulse buys. Or, direction to the business website.
6. Inserts
There are many ways to use graphic design services for inserts:
Cross-promotional offers for horizontal sales
Thank you notes creating a personalized experience
Discount offers to generate up-sells
Free samples and/or bonuses to add fun
Social call-to-action getting them to share online
Provide vital pre-setup instructions to reduce customer service calls
These inserts, costing pennies, can create a pleasant surprise to recipients. The experience could encourage them to remain loyal or entice referrals. Their loyalty and vocal experience could increase customer lifetime value. This, then, drives new leads to your business from word-of-mouth promotion.
7. Stickers & Swag
Stickers have a surprising utility in brand marketing -- they:
Act as promotional pieces upon viewing or inquiry
Define a culture and personal endorsement
Compliment products or services through helpful info
Supreme is sticker marketing to the extreme. The simple, but striking, brand's sticker developed a sub-culture. Some go above-and-beyond with collecting and applying them to everything.
Informational stickers could provide contact details for easy re-ordering. Or act as content helping users understand and use offers effectively. In all, this creates a heightened experience with the brand's offer -- creating loyalty.
Stickers could bundle with extra swag items like lanyards, tote bags, and branded apparel. Send these to loyal customers and influencers to create buzz and word-of-mouth marketing. Also, distribute them at conferences and events for added impact on your interaction.
8. Signs & Banners
Signs & banners are low-tech, low-cost marketing assets. Use them at strategic locations to build brand & offer awareness. Or, when affixed to your physical location to enhance the shopping experience.
Examples of signs & banners in-store include:
Helpful infographics explaining product or service usage
Call-outs for areas of your business (ex. conference room)
Sales promotions both indoor or outside
Media walls used for branding during interviews
Graphic design services often couple signage & banners in package deals (e.g. business card, banner, and catalog). There are a dozen variations from yard signs and table runners. You can get tabletop signs and standups, too.
How to Leverage Physical Graphic Design Services
The graphic design services provider may provide digital assets of your commissioned work. If not, ask if files are available for recordkeeping.
Why add this step to the service?
The physical campaign designs become stellar online assets when reworked for Web-based mediums. This lets you double-down on marketing efforts without paying twice for the designs.
How can you reuse design assets for the Web?
Banners & Ads
Strip superfluous information from a flyer template and you have a great banner ad. This design asset is then used in social media and pay-per-click marketing campaigns. The strong design creates an easy entry-point with these ad platforms while lowering cost and time commitments.
How else are assets integrated with Web campaigns?
Listing coupons on-site, as banners, and in third-party aggregators
Reworking elements while split-testing ad designs
Using assets as part of a media kit
Offering affiliates creatives upon partnership approval
Print ads are merely digital ads yet to come online. Every non-informational design acts as banners & ads when reworked and resized to online platforms.
Multiple designs could mix-and-match to become new banners & ads. This lowers costs with online campaigns by presenting limitless options with split testing.
Website & Email Templates
The design process gives an opportunity to update the website & newsletter:
Color combinations
Call-to-actions
Design elements
The print campaign can renew continuity by replicating features and designs to online properties. These engaging designs lead to improved conversions. A person finding a website develops instant brand recognition when designs reflect what they saw on a flyer, brochure, or business card.
This also applies to the email marketing campaign. You could re-use the print material in email newsletters. Or, rework elements to brand your emails.
The online design community recognizes great website & marketing materials. This could have your business featured in several publications. The resulting feature would build links and brand awareness.
Social Media Graphics
The designs find their way to:
Facebook
Instagram
YouTube
Twitter
LinkedIn
Dimensions are reworked to platform specifics. This creates a pleasant and engaging experience viewing the business profile. The design assets become promotional materials shared with online communities, too.
Some designs, like brochures & catalogs, could digitize and embedded on a website or third-party content site. This creates new helpful resources for your team and business prospects. The reused items also fill-out content needs leading to increased organic traffic from search placement.
Get Quality Graphic Design Services with New Era Print Solutions
Here at New Era Print Solutions, we offer graphic design services -- including:
Print
Design
Marketing
Web
We're a one-stop-shop for all design needs. We've helped thousands of business across Canada. We understand your need and desire for business growth and brand awareness. This is why we not only provide design services but also offer in-house printing to create the best assets for your marketing efforts.
Ready to make an impact in print and on the Web?
Get in touch (905-564-0442 or 1-844-994-0442). Or, use our contact page. Let's discuss how our services can improve your business.
---