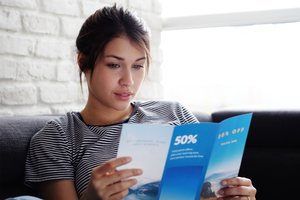 12 Tips for Creating a Highly Effective Product Brochure
Although businesses are increasingly turning to digital marketing methods to promote their brands, some traditional marketing tools like brochures remain popular today.
To create an effective product brochure, you need to consider the factors that influence the decisions of your target audience. A good brochure design gives you a chance to showcase your offerings to customers.
Check out these 12 tips for creating an effective product brochure.
1. Understand Your Customer
How well do you know your customers? Do you think they're interested in your product? Will the brochure make them want to try out your offerings? Is there a specific problem or challenge that your brochure will help them solve or overcome?
These are some of the questions you need to ask when thinking about the design of your brochures. If you don't know the answers to these questions, you might create brochures that sell your brand.
Brainstorm with your sales and marketing team. Use their suggestions to help decide how to structure your brochure.
2. Sell, Don't Narrate
Effective brochures focus on how your customers will benefit from purchasing your products.
This is why you need to include the features and benefits of your product in your brochure. It is with such information that you will get customers to buy your products.
3. Avoid Fuzzy Words
Unless you're advertising language courses, stick to simple words. This is why it's best to define the purpose of your brochure before you settle on the design.
The purpose of the brochure will influence the choice of words used. Is your brochure advertising a contest? An event? A product? The purpose forms an integral part of communication design.
Generally, fuzzy words will only be of interest to those who are willing to learn certain languages. Simple language makes it easy to convey your message. It's the best route to take.
4. Use the Right Images
You should use images that evoke the right emotions. The right emotions, in this context, are emotions that will make the customer want to buy your products.
It shouldn't just be about you as the seller. You may be proud of your company, but your customers don't care about that.
A photo of your building on the brochure evokes the right emotions in you and not customers.
Make sure you have photos that capture the attention of your customers.
5. Exercise Font Restraints
When designing the brochure, it is easy to be tempted to use multiple fonts. It is easy to go overboard with fonts if you don't exercise caution.
Some customers might find a brochure with multiple fonts amusing, while others find it irritating. To play it safe by practicing restraint.
If your company has settled on a certain signature font, stick to that. You can stick with that font through the entire brochure or jazz it up with one or two more fonts.
6. The Headline Should Summarize the Brochure
The headline of the brochure should be a summary of all what the brochure is about. For example, if it's an advertisement brochure, the headline should convey the service or product being offered and how this product will benefit the user.
One of the common mistakes designers make with respect to headlines is peppering the headline with the business's information.
While some basic details about the business may be necessary, this information shouldn't be made the headline of the brochure. 
7. Prioritize Your Reader's Interest
Many graphic designers struggle to prioritize the design that meets the expectation of their readers. Most settle for what meets their expectation and put the expectations of the customers in the backseat.
As a designer, put yourself in the shoes of the target customers. If it's believed a red colour will arouse the right emotions in the target market, then settle for red. It doesn't matter if you hate the shade, you must include it in the design.
Let the interest of your readers take the front seat.
8. Mind the Paper You Use
Always settle for a high-quality paper for your product brochures. A high-quality paper will be pricier to buy compared to low-quality paper, but it's definitely worth the extra cash you'll spend.
Brochures made using poor-quality paper may give your customers the impression that you don't prioritize quality. This may hurt your business reputation and bottom line.
9. Focus on Readability
Your brochures should be an easy to read type. Apart from language, ensure you have the right background.
For instance, a dark colour on dark background strains the reader's eyes. Small fonts and big blocks without breaks also reduce readability.
10. Use Bullets to Explain Key Features of Your Products or Services
Your customers have limited time to read the brochure. Once they open the brochure, they are likely to skim it to save it.
When you use bullets to explain key points, it will draw their attention to these key points and captivate their interest in your product or interest.
11. Give Your Brochure a Unique Look
Take time to create a brochure that is original and unique. The uniqueness is what will make your brochure stand out from the rest. Think of a design that is so unique to an extent that it evokes the curiosity of the target customer.
Creativity is highly recommended. It's what sets you apart from your competitors.
12. Include a Call-to-Action
It doesn't matter how well you have designed your brochure. If your brochure lacks a proper call-to-action, then it won't fulfill its purpose.
Don't assume your brochure provides all the information your customers need to know about your product or services.
A call-to-action gives an opportunity for customers to seek clarification or/ and place orders.
A Well-Designed Product Brochure Is a Lead-Nurturing Marketing Plan
A professionally designed brochure educates potential customers and delivers good credibility that wins customers' trust. Such brochures widen the target audience and convince the customers to take action.
Designing a product brochure can be a challenge and that's why you need professional help.
Check out our collections category to see the products we have to offer your business.
---