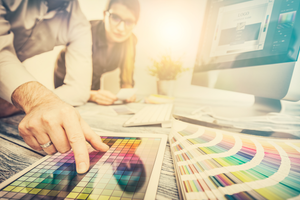 12 Brochure Design Tips for a Creative Design
Do you want to create a brochure like a pro? Brochure designers use creative design for an eye-catching brochure. Here are 12 creative brochure design tips.
Brochures are among the most used and most successful pieces of printed marketing materials. In fact, 79% of small and medium businesses report that they already use brochures, and another 8% are planning to implement them.
Whether you're a graphic designer or a business owner who's trying to create your own brochure, creativity counts. A brochure has the task of catching a customer's attention and telling them what the business is about. That isn't an easy job, so your design has to be competitive.
If you're looking for ways to get creative with your brochure design without getting unprofessional, you've come to the right place.
Creative Brochure Design Tips
You should already know the first requirement of a great design: know the business and know the audience. That's the first step for any design project, but especially something sizable like a brochure.
Once you have those crucial principles down, these tips can help you take your design to the next level.
1. Start by Sketching a Layout
One of the challenges to a brochure is that it has to combine individual panels into one big picture. It also has to flow with the way the customer is reading it. Getting all the pieces to work together can be one of the most challenging parts of the process.
That's why a sketch can be a great way to start. It lets you see the big picture before you get started. If you're a designer working for a client, it's also a good idea to show them your sketch. If they don't like the general direction, this saves you tons of time in revisions.
2. Play with Layers
A great way to achieve the look of a professional brochure is to get creative with your layers. Depending on what design software you're using, there are ways to wind layers around each other.
3. Have Fun with Colours, but Stay On-Brand
Colour is one of the fastest ways to portray a brand and create the tone you want. The same goes for the absence of colour in a modern, artistic black and white design.
Even if you have a brand-specific colour scheme, you can still have a little fun. Try changing up the transparency or bringing in new neutrals that work with your colour scheme. Just be wary of the trap of getting too colourful and straying from your brand.
4. Keep It to Two Fonts
We've all seen the cringeworthy designs that use a different font for every paragraph. While you might be trying to add spice and intrigue, you're just making the design look haphazard and unprofessional.
A good rule of thumb is to use one headline font and one copy font. The headline font should be unique and eye-catching, and it might be worth your investment to buy a new one.
Your copy font should still be on-brand but it should be simple and easy to read. You can bold, italicize, or enlarge it for subheadings.
5. Keep the Paper in Mind When Considering Colours
Talk to your print shop about paper types and finishing treatments early in the design process. Find out what they offer and which ones fit into your budget or your client's budget.
The type of coating or paper used will affect how colours look on the finished brochure. This is why the Pantone colour guides have both coated and uncoated swatches.
If you're a business owner and you're hiring someone to design your brochure, find out if your print shop has a designer on hand. They may be able to better coordinate printed colours.
6. Don't Go Overboard with Copy
The brochure's copy has to give a strong picture of what the business does. However, it doesn't have to answer every question the customer might have. That's what the website and customer services representatives do.
Keep the copy to a minimum to help the brochure look organized, modern, and easy to navigate.
7. Consider Intriguing Textures
If they can fit into the budget, fun textures are a great way to make a brochure stand out. Use them sparingly, though, so they don't lose their novelty. For instance, if you have a polka dot pattern, make the dots glossy while the rest of the brochure is matte.
As with all the other points above, make sure you keep the brand in mind with your textures as well.
8. Go for Intriguing Die Cuts
Die cutting isn't new, but not many businesses take advantage of the technology in their brochure designs. While it can add to the cost, die cuts are simple ways to add texture and personality.
In the same way, try a less conventional shape for your brochure as well. Consider making the front panel a shaped cutout, for example. It will make your brochure stand out from the pack.
7. Think Outside the Box with Stock Photos
There are certain types of stock photos we've all seen a million times. We're talking about a smiling businesswoman with her arms folded or a dad smiling while giving his child a piggyback ride.
Instead, look for something with some novelty and uniqueness, and something that doesn't immediately scream "stock photo."
8. Try Unique Folding Lines
There are a few standard layouts for brochures, like a trifold or a gatefold setup. Try to get out of this rut and play with a more unique design. For instance, consider a brochure with a divided front panel, or a diamond-shaped brochure instead.
As you exercise your creativity, though, make sure your design is still intuitive. Customers shouldn't get lost while trying to find the information they want. They also shouldn't get confused trying to determine which blocks of text go together.
It can be helpful to show the design to someone who isn't familiar with the information to see if it's easy for them to navigate.
9. Make Sure the Design Fits its Display
There are plenty of examples online of displays that weren't designed with their function in mind. For instance, a poorly designed Starbucks van went viral because the designer didn't consider how it would look when the door was open.
It's easy for this to happen when you're just looking at your design by itself. Instead, you need to consider where it will be displayed or the context in which readers will see it.
If you're working with a client, ask to see the brochure holders they'll be using. If they don't have any, create your design with a standard brochure holder in mind. Make sure there are no awkward cutoffs or positions that change the way your brochure looks or what it says.
10. Don't Get in Over Your Head
You've probably seen plenty of designs in which the designer tried to go for a lofty goal but missed the mark entirely. You don't come away thinking, "I bet that's a really talented designer who just had a rough day." You get distracted from the content and think, "Wow, this designer doesn't know what he/she is doing."
All these creative ideas are fantastic, but make sure you know your limitations as well. If there's a technique you want to try, perhaps attempt it on your own time before potentially hurting a client's project with it.
Everyone wants their design to stand out, but it's also better to go for simple and effective than to crash and burn.
11. Find Inspiration, but Don't Copy
If you're stuck and don't know how to move forward with a design, feel free to go online and look for other pieces. Use them as inspiration, see what works and what doesn't, and incorporate a version of those elements into your design.
Of course, be careful that your design doesn't look too similar to any of your inspirational pieces. The last thing you and your client need is an accusation of stealing someone's design. Plus, this defeats the purpose of trying to get creative and stand out.
12. Keep the End Goal in Mind
This is another one of those universal design principles that needs to be said because it's so often forgotten. Is the end goal of this brochure to get a customer to call? To go to the company's website? To attend a particular event?
Make sure that the end goal is reflected in the content and design of your brochure. That final call to action should be the lasting impression your design leaves on the reader. If it helps, jot down that main idea on a sticky note and put it someplace where you'll see it throughout the design process.
Kicking Your Design into High Gear
Brochure design and designs for other types of marketing collateral are a unique blend of art and function. Their purpose is to convey information, but they can't do that unless they peak a reader's interest.
If you're ready to discuss your printing options for your brochure, contact our print shop. Or reach out to our professional design staff with more hands-on help.
---