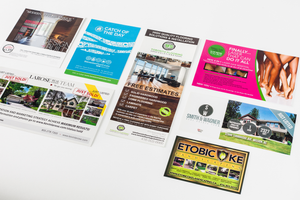 Direct Mail Postcard Designs That'll Improve Your Marketing Campaign
Gone are the days of postcards only being used to send relatives a "wish you were here" message from a fabulous vacation destination.
Postcards have come into their own as a very effective way to do direct mail marketing. For one, they stand out from the rest of the publicity mail people get because they feel different. We print all sizes in our postcard range on 16pt (350 gsm) card – that's nice and thick and feels solid in the hands of your potential customers.
Although NEPS does have a creative graphic design team, you can upload your own postcard design and we'll send you a proof before printing your order.
Are you a bit at a loss about how to begin? Do you need help in making sure you've got all the bases covered? Well, look no further, because we've put together a whole load of useful tips on how to design a postcard to have the maximum sales impact with your next direct mail campaign.
Headlines and Message
You need a clear, bold headline.  Of course, even if you choose a larger size postcard, there is not much space. So you should stick to one central message. 
Seasoned marketers among you will know this already.
Start-ups and those of you doing mail campaigns for the first time might be tempted to try and say everything about your company.  Don't bother! Your target audience won't read it.
The best results are achieved with a short, clear headline that lets the recipient know immediately what it is that you're selling. If you can get your call to action in the headline as well, more power to you!
Match Your Graphics to Your Headline
Your graphic on the front of the postcard should support your headline. The graphic should add to the message of your headline.
If you deliver pizzas, say, don't simply have a picture of your delicious pizzas. Rather, take the time to develop a design that incorporates your logo, and introduces the idea of speedy delivery as well.
For that, you might want to combine animated graphics with a realistic photo of your pizza.
Remember that all our postcards are printed full bleed, which means that the printing goes right to the edge of the postcard.
Take care to continue the themes developed on the front of your postcard on the reverse. Allow for space on the reverse for the recipient's address, and for the stamp, or franking impression.
Many people use the reverse of the postcard to give a little more detail about their product. We recommend an absolute maximum of 100 words. You want the print to be large enough to read at a glance.
While we're on the subject of back and front, remember to repeat important information, such as a contact number or web address on both sides of the card.  Some people like to pin postcards like yours to bulletin boards. It's nice to give them a choice as to which side they want to see.
Use of Colour
Make sure the headline and any other text — such as a tagline — stand out from the background colours of your graphic.
The idea, whatever your graphics are, is for the headline to be seen first.
Many people make the mistake of using too many different colours.  Stick to two main colours. This results in a less "cluttered" look, and makes the overall impression more appealing.
One other mistake many people make is to use colours that clash with the colour scheme of their company logo.  This gives a general impression that you are amateurs, and is likely to reduce the response to your mail-shot.
Focus on Benefits
Focus on the benefits a customer gets from using your product or service. The object should not be to list all the features you can think of.  The main aim of marketing mail campaigns is to get the customer to make contact with your company.
So say that! Say "get in touch", or "call us" or "visit our website", or "speak to our sales manager today", or "check out our website".
And tell your customers in advance what is in it for them. It might be a discount if they produce the postcard or say that they learned about you from the mail campaign. It might be that you offer great quality, speed, or friendly service.
Whatever it is, that's the statement that should appear prominently on your postcard.
Whatever appears on the front of your postcard should be a lead-in to the information on the reverse.
Your Company Name and Logo
Your company name and logo must be easy to read and easily identifiable.  One marketing fail that comes to mind is a company that launched their new image via postcard mail campaign, but they had not updated their website with their new look.  It seems obvious, but the mail campaign was a waste of time because it created confusion among potential customers and gave the impression of a disorganized company.
Why Use Postcards for Marketing?
Believe it or not, there's a novelty factor attached to it. These days, everything is online. Except for boring old utility bills.  Brighten up someone's physical mailbox with a postcard.
Studies have shown that the response rate to direct mail marketing is often better than a similar campaign online. Other studies have shown that brand recall is also 70% higher.  In a competitive market, that's certainly something to think about!
Postcard Design and a Springboard
You can use your postcard design as a starting point for other physical forms of advertising: for your business cards, company brochures, and event banners at trade shows.
In fact, you can use those postcards as handouts at trade shows too.
There is more than meets the eye to design.  You need to think about design strategy. Your postcard design must form part of a broader concept - your brand image, and your marketing aims and objectives.
If you need help with any of this, be sure to get in touch with us. We have a friendly online chat too!
---