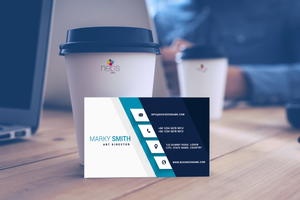 10 Creative Business Card Ideas
Your business card is what a potential client takes away with them, literally. You want to make it so they want to pick it up and look at it later. Here are some business card ideas that will do just that.
Releasing a new business card provides an opportunity to reassert a company's vision. A creative card draws attention, brings people in the door, and gets your name out there.
Naysayers predicted the web would make business cards obsolete in 2014. In 2018, business cards continue to prove they still matter.
Business cards get results and show an increase in desire for services. The exchange of cards among professional forms a type of ritual. One that cements the quality of services by engaging in a well-accepted practice.
Looking for business card ideas? That happens to be what we do. Get started brainstorming with this list of hot concepts in card designs.
Eye-Catching Business Card Ideas
Make your business card an employee. It is one part headhunter and one part village crier. It tells people who you are, what you do, and that you do it well.
The following ideas leverage exciting innovations in print technology. So think outside of the paper rectangle. Though not every idea works for every business, by the end you will have a cornucopia of ideas.
Consider how you market your business in other media. Keep in mind the presentation and image you strive for. These thoughts will help you absorb and incorporate these ideas.
1. Orientation
Let's start off with a simple trick. A quick change to the orientation of a card brings instant awareness.
A bonus of taking this approach? The space for lettering and logo designs receive significant changes. Long words, no longer an option, force you to rethink content.
Shorter, more direct content makes an impact. Tall images in the background give a notion of looming and menace.
Standing your cards next to a competitor provides an immediate visual edge. You don't only sound better, you look better.
This design idea may not be bold enough for some purposes. Yet, it starts off this list with a key example of how simple thinking leads to greater effect. Design elements that come across subtle provide the most effect.
2. Transparent
Transparent cards double up on the aesthetic appeal. First, they provide a memorable experience for a view in reading the information. Second, they stack together to create different colors through the stack.
The transparent effect can be hard to read if done wrong. Consider bold colors and lettering design for notable clarity.
This works best for cards presented on desks or kiosks. Compensate for their lack of individual flair with a pattern or slick logo.
Consider matching transparent cards matched with other business cards ideas for increased results.
3. Shapes
Pythagoreus' obsession with rectangles aside, other shapes exist. rounded corners, novelty shapes, and even solid squares get noticed.
Consider the principle of form and function. A business dealing with pest control may choose a mouse shaped card. Instant recognition of product before any added words.
A bar may choose a square resembling a cocktail napkin with the logo as water stain. Build them from durable card stock and they double as coasters at home.
Combine a clever shape card with a transparent card design overlay. Now the card stands out and increases the impact of the highlighted text.
4. Retro
Not all ideas need to be forward thinking. A glance back to the past illuminates some bygone ideas with promise.
Stark lines and a bit of a color change to the cardstock invoke a feeling of the past. Sepia tones bring out a the good-ole-days feeling.
You might be wary of dropping down to a stark logo or plain text on background design. Remember that less can be more.
Art deco proves the veracity of the blast from the past style finding a new audience.
Retro business cards examples work well with bars and clubs. Consider the impact of a rustic theme for a museum or antiquities business.
5. Minimalist
Speaking of retro, let's go minimalist. Simple lines and reversed colours create delicate contrasts.
Looking to show you have something that the competitors don't? Set out to create a reverse of their design. White on black or a scintillating gray background.
Make use of embossed lettering or etched lettering to stand out.
Minimalism leaves the viewer ready for more. Consider coupling a minimalist card with links to a website providing precise information.
6. Die-Cut
More than a change of shape, a die-cut card gives character. Consider what removing an element inside of the card adds over reshaping the outside.
Die-cut cards work best when they use layering for effect. Add a springy cut-out of a latch and lever to our mouse cand and you have a trap. It doubles down on the visual and serves as a clip.
Why add your logo in ink when you can chop it out of the background? Most business card backgrounds gain from some subtraction. Modern cardstock won't fall apart with some holes and paths cut through.
The visual effect for the viewer will stick.
Reconsider materials as well. Thin metals and durable plastics can be die cut to stay lightweight. A paint supply store could cut out a tab and in a moment the card becomes a miniature palette.
7. Interactive
Take several of the above elements and slap them together. Create a card that looks good and does something. What? Well, that can be any number of things.
A card that introduces the function of a service makes for an effective eye-catcher. Our mousetrap example also creates a useful tool. Small toys and puzzles appeal to more than children.
Humans gravitate toward objects that provide a sense of utility or fun. More than that, interactivity drives up information retention rates.
A company offering guide services for a national park may design a map into the background of the card. A bookstore can etch and fold a card to create a little bookstand.
Combine a transparency with a die-cut background. Think of a cleaning service card that highlights their logo like a person zeroing in on a mess. They could even create a hide and seek game for a discount code in such a fashion.
Interactive cards stretch the creative card industry. Activites give consumers more face-time with your card. Bonus, people love to share clever or fun interactivity with others.
This increases the number of eyes exposed to your business. An interactive card also stands a better chance of getting saved for later. This provides another opportunity for interaction later on.
Some companies create metal cards that function as simple tools. These get stored in wallets for emergency use. Instant brand retention.
8. Web Mirrored
A business card mirroring the layout of the business web page creates brand unity. People delight in seeing offline representations of online things and vice versa.
The symmetry between the two representations also creates retention. If you have designed a website you also know that many of the same tips for creating a website apply. Both rely on delivering clear information with some pizzazz.
A web mirrored business card delivers information in a familiar fashion. Only a few people don't visit a few web pages each day.
9. Sleeves
Take your card up a notch in both professionalism and genteel status. A sleeved card gives a customer a little present to unwrap. Sleeved cards evoke a sense of opening a letter to read a hand-penned missive.
Sleeves protect delicate cards or layered cards with interactive properties. The surprise of seeing the card also creates a memorable moment.
Sleeves offer a touch of elegance and contrast. A dark sleeve for a stark white car, for example. A minimalist sleeve around a wordy card evens out the presentation.
Sleeves provide more surface area. Interactive cards can make use of the extra space or even make combination puzzles. Don't fall into the temptation of making a sleeve difficult to open, that becomes a chore and not a delight.
Metal and edged cards with tool purposes remain safe in a sleeve.
10. Go Big (on the Typeface)
Large typefaces draw attention. think of the way a movie poster uses bullet point words to evoke the tempo of the film.
Bodl typefaces communicate strength and power. Even a delicate card benefits from a bold splash of bigger typefaces.
Single color words against backgrounds stand out. An embossed larger word provides a texture felt through a wallet or a pocket.
Big typefaces attract attention at a distance. People find it difficult not to want o know what is behind a single large word seen across a room.
Consider action words and words with a definitive shape. Question words such as what, why, and how? provide added mystery and attraction.
A why? splashed across a sleeve with an answer on the card inside makes a complete interaction.
Print Your Dreams
There you have it. Looking for a way to sort through all your new business card ideas? Check out our blog for even more information!
We offer no apologies for any damage to eyes and frontal lobes from creative overload. We do offer excellent deals in design and printing services to bring your business card to life.
---